All Things Tie-Dye: 2019 Trends, Where to Get It, Everything You Need to Know
All Things Tie-Dye: 2019 Trends, Where to Get It, Everything You Need to Know
So tie-dye is apparently trendy this year, so we've gathered all the trends, styles to wear, and much more!
When you hear or see tie-dye, you might think of your t-shirt from summer camp when you were a kid, or if you're into old music or anything retro, you'll think of hippies in the 60s and 70s. Either way, the trend has faded and returned for several decades now. But now, tie-dye is making a completely new comeback, as you can find it anywhere in fast fashion and high fashion! Who would've thought that this style would be featured in Prada's runway show, or would be worn by the richest celebrities? But at the same time, tie-dye also represents DIY, hand-made, and low-cost all at the same time. What a wonder it is - so let's now explore the latest trends and everything tie-dye!
Tie-Dye x Prada
Prada is one of the most well-known designer clothing company of all time. Founded in 1913 by Mario Prada and his brother, this Italian brand has without a doubt conquered the world. Focusing mostly on bags, shoes, perfumes, and other fashion accessories, there is probably no one in the world who hasn't heard this name. Surprisingly, this brand has incorporated a lot of tie-dye themes in their 2019 spring/summer items.
Shop This Look
Stradivarius tie dye pleated midi skirt USD 56.83 (around PHP 2,943.00)
ZARA TIE-DYE SKIRT PHP 3,295.00
Tie-Dye x Vintage
Tie-dye has always, and probably always will, have a place in vintage clothing. If you walk into a secondhand thrift shop or a used clothes store, you'll definitely find t-shirts, sweatshirts, maybe even hats and bags in tie-dye print. If you prefer items with a history rather than off-the-rack fast fashion, then I recommend you to go out to the nearest thrift store and find a piece that you can automatically fall in love with!
Shop Tie-Dye Dresses
ZARA Tie-Dye Dress PHP 1,495.00
Stradivarius Tie-dye Print Dress PHP 1,995.00
ZAFUL Tie Dye Fishnet Mini Dress PHP 888.90
Tie-Dye x Makeup
The tie-dye trend has gone so far that now girls are wearing tie-dye eyeshadow! In this Instagram post, Melissa Isabel gives a detailed tutorial on how to create this look, so swipe through to see how she made this beautiful masterpiece.
Here are some recommended eyeshadow palettes that have all the colors you'll need.
Tie-Dye x Local
There are also local brands in the Philippines that make hand-made tie-dye shirts, for example Magaion Shirts. Unlike other fashion brands, you can get your own, one and only unique shirt for a fairly reasonable price. It's always nice to support local brands with a cause, so check out their official website here.
Other Recommended Tie-Dye Items
Vans Benched Bag PHP 759.00
Vans TIE DYE AUTHENTIC USD 60 (around PHP 3,108.00)
Tie Dye Criss Cross Bikini Swimwear USD 14.61 (around PHP 755.50)
Make Your Own Tie-Dye Shirt
So, now you've learned about the trends and where to get some of the most trendy items, but you can't forget that tie-dye was originally meant to be purely hand-made! If you've never made your own tie-dye shirt before, you're on a low budget, or you just want to have fun and be creative, then why not make your own piece of unique clothing?? You can make t-shirts, tank tops, even dresses if you want. Here's a tutorial for you.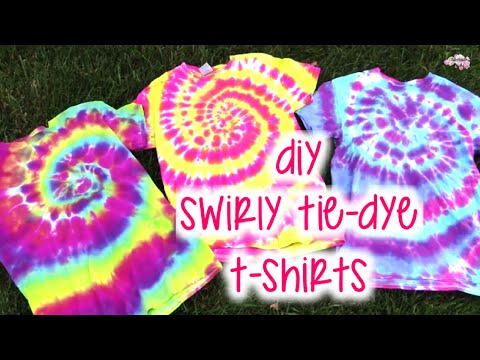 Tie-dye is just so fun to look at, fun to make and fun to wear! Hopefully this article has inspired you to wear tie-dye this year because there's really no reason not to!