"Laundroid" the next generation of laundry folding
"Laundroid" the next generation of laundry folding
Do you hate folding your clothes? Is it the world's most boring chore? Good news! A Japanese company just built the world's first laundry folding robot.
Are you tired of folding your laundries even after buying a laundry folding table? Seven dreamers in collaboration with Panasonic Corporation and Daiwa House Industry Co., Ltd. Just announced a development of a fully automatic laundry folding machine called the "Laundroid".
Laundroid demonstration at CREATEC 2015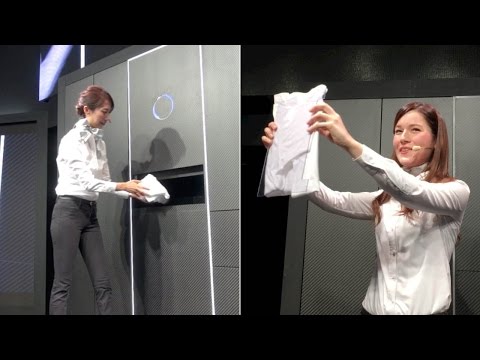 After 10 years of research and development the joint venture received 1.5 billion yen worth of funding. In Oct 7-10 at a appliances exhibition CREATEC 2015 the Laundroid was demonstrated folding T-shirts. Presently the company has earned partnerships and has already started a full-scale development aiming to commercialize the product in 2016.
On their teaser site, the company said that study shows that in an entire life an average household spends about 18,000 hours doing the laundry and about 50% of that is spent on folding the clothes, this 50% or 9,000 hours is equivalent to 375 days. With Landroid to do the folding, user can have 9,000 hours of free time to enjoy.
Release date along with official images and specs was not yet announced aside from its aim to start pre-orders in 2016.
Indeed Seven dreamers have created a high level robotic technology with the Laundroid. We're not quite sure whether the Landroid "automatically iron clothes" or not? The lady in the demonstrated only mentioned "a laundry dried shirt" upon placing it on the Laundroid
We'll update you with more information once the product is officially announced.