VR ZONE SHINJUKU : Be Blown Away at this Arcade in Tokyo, Japan
VR ZONE SHINJUKU : Be Blown Away at this Arcade in Tokyo, Japan
Experience the world you dreamed about at a VR facility! I was blown away by super reality at VR ZONE SHINJUKU.
Japan's biggest VR entertainment facility, VR ZONE SHINJUKU produced by Bandai Namco Entertainment opened on Friday, July 14th 2017. It has 16 types of VR activities such as Evangelion, Dragon Ball, and MARIO KART! I have experienced the amazingly exciting activities, so I would like to report on it.
Experience what you can only experience here.
In the large facility of about 3600 square meters, the VR ZONE SHINJUKU opened with 16 VR activities. There are many activities such as Evangelion, Dragon Ball and MARIO KART.
Ride and fight in Evangelion, and shoot Kamehameha!
After looking around the first floor, I went to the second floor where there are VR activities. I tried four new activities this time; Dragon Ball VR - Master the Kamehameha, Evangelion VR - The Throne of Souls, Fishing VR - GIJIESTA, and Dinosaur Survival Run - Jungle of Despair.
Shoot real Kamehameha and make your inner child's dreams come true! Dragon Ball VR - Master the Kamehameha.
The first one I tried was Dragon Ball VR - Master the Kamehameha. With this activity, you can train with popular characters, Goku, Vegeta, Piccolo and Kuririn, and learn how to generate Kamehameha and Kidan. You wear not only the VR headset but also sensors on both hands and feet, and play on a special board. Once it starts, you are wearing the orange uniform you have seen in the anime, and when you move your legs and arms, the legs and arms in virtual space move too. You feel as if you were actually in Dragon Ball world.
Squatting down with your hands on your waist, it starts to light up around you, and you can save "ki." Wind starts blowing from your feet, so you cannot help saying "Haaaaa" as it feels so real. Once you save up the "ki," you twist your body and place your hands on your right at your waist; the well-known pose for Kamehameha. A shining blue ball gets big in your hands, the ground cracks and rock pieces start lifting. When you push your both hands forward, Kamehameha gets shot gauging the ground.
Challenging the strongest angel, Zeruel. The Evangelion VR - The Throne of Souls.
You can ride Evangelion Unit-00, 01 and 02 to have a powerful fight against the strongest angel, Zeruel, with Evangelion VR - The Throne of Souls.
When you put a VR headset on in the specialized sensory machine, you are inside the EVA Entry Plug. You launch with the voice of Misato Katsuragi saying "Lift off!." Just this experience excites you.
On the ground, Zeruel is raging about shooting laser beams. Players actually operate Evangelion to defeat Zeruel. You move your face to aim, and when you pull a trigger on the lever, it shoots. You can choose from Assault Rifle, Gatling Gun and N2 Bombs. When you run out of bullets, you get new weapons from the armory around you just like it is in the original piece.
The battle occurs 360 degrees around you and they are amazing. It feels so real that you try to escape from Zeruel's laser by twisting your body. It just felt too realistic, so I was almost panicking while fighting. When I looked around me, I was able to see the other Evangelion players. I was so into the game that I even wished "please, everyone, don't die!"
We couldn't defeat Zeruel, but I heard you can win if the three players work together well. You can see how we actually fought against Zeruel in the clip below.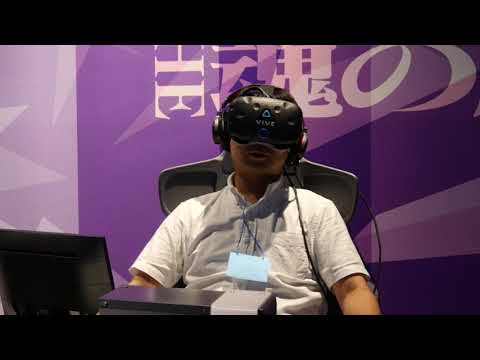 You are in nature when you put the VR headset on! Catching a big fish with Fishing VR - GIJIESTA.
After getting slightly tired experiencing Dragon Ball and Evangelion, I tried Fishing VR - GIJIESTA, which seemed relaxing. With this activity, you can experience lure fishing in the wild using a specialized fishing rod controller. The top of the controller is flexible, and when you press the button at your hand and shake like drawing an arc, you can cast a lure.
When you reel a little and get a fish, you shake the rod vertically strongly. After that, you spin the handle and catch a fish. But you are not really catching a fish; you catch it using a net and release it to water.
It was supervised by a professional fisherman, so the completion level of the activity itself is very high. The controller works like a real fishing rod, and it shakes when the fish gets on the hook. I was surprised that you are even provided with a net. Two players compete against each other trying to get more fish than the other.
Can you get away from a jungle full of dinosaurs? Dinosaur Survival Run - Jungle of Despair.
With this activity, Dinosaur Survival Run - Jungle of Despair, you become one of the passengers of a crashed plane and try to escape from a scary jungle on a standing scooter. You scoot in the dark jungle to get to the rescue helicopter outside, but you get scared with the fear of not knowing where the dinosaurs will attack you from.
When you look around the quiet jungle, you can see dinosaurs hiding everywhere. You don't know when and where they will come to attack. You definitely would get panicked when you hear other passengers' scream from somewhere or when the battery of the scooter goes low. It was a struggle just to keep calm, and I scooted around the jungle screaming.
When a vicious dinosaur came out of the jungle and bit me, I couldn't help screaming. You can see how I am panicking and screaming while experiencing this activity from the clip below.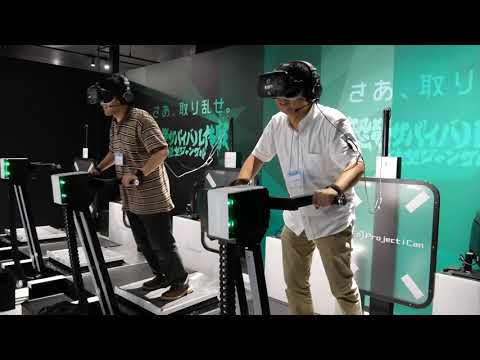 Activities other than VR activities are fun, too!
There are activities you can try without wearing a VR headset like Virtual Resort Activities called Trap climbing and Niagara drop which has a 7 meter climbing wall and a gigantic slide with projection mappings, and Giant Balloon Burst Room which you work with your friends to clear a series of missions. It is great that those who don't like VR much can also enjoy.
VR ZONE SHINJUKU's admission fee is 800yen (Approx. PHP 370) for adults and 500yen (Approx. PHP 230) for children between 6 to 12. Also, you need to pay for each activity. VR activities cost 1,200yen (Approx. PHP 555) each and activities you don't wear VR headsets cost 1,000yen (Approx. PHP 463) each. From its official web site, you can buy a 1 day/4 ticket for 4,400yen (Approx. PHP 2,038) which includes the admission fee and 4 activities.