How to Make Fun, Do-It-Yourself (DIY) Face Masks without Sewing
How to Make Fun, Do-It-Yourself (DIY) Face Masks without Sewing
Bring out your creativity by crafting your own face mask! With these originals, even if you can't buy them anywhere, you'll still be able to stay safe.
One of the worst things that happened as people all over the world strive to battle the novel coronavirus (COVID-19) is the shortage of medical tools and supplies, including personal protective equipment (PPE) including medical-grade facemasks, such as surgical masks and N95 respirators. The shortage is so bad that the frontliners and health workers themselves lacked access to these tools that they need to ensure their own protection from the virus. Since then, surgical masks and N95 respirators were reserved for the bevy of frontliners risking their lives to help those who have unfortunately contracted the fatal disease.
The same situation exists in the Philippines. Because of this, many put their creativity to good use by making PPEs and masks from available materials – some even recyclable materials.
When the COVID-19 started spreading to many countries worldwide, citizens were recommended to wear a facemask when going outdoors and that a one-meter or six-foot social distancing rule should be maintained. The World Health Organization (WHO) had previously said that the virus could be spread airborne and that the virus gets spread in the form of aerosols or "respiratory droplets". Wearing masks and social distancing can protect people from catching these pathogen droplets.
At the time of this writing, no known vaccine has been officially announced yet, and even if the curve has started to flatten in some countries, the public must continue to wear facemasks and promote healthy distance from other people when they are outside their homes. This means unless there will be a remarkable production and oversupply of medical-grade facemasks, which are disposable, we ordinary citizens would have to settle for the washable cloth masks that are being sold online, in stores that are allowed to operate, or by sidewalk vendors. Or, we can just make one ourselves.
Although the cloth masks are not as effective as those that are medical grade, the goal is to keep ourselves protected as much as possible. However, the availability of such facemasks to everyone may be limited, especially to those who do not have access to online shops, or in places where there are no such items for sale. We here, at Priceprice.com, wanted to share some steps on how to make your own do-it-yourself (DIY) facemask. And without having to sew them!
These DIY face coverings are easy to fashion, and the supplies you need are most likely readily available in your house.
Important Reminders When Making a DIY Mask
Kind and Quality of Fabric
Fabric from bandanas, scarves, T-shirts and even socks are the most common materials used in making face masks. The kind of fabric you use is important. It can't be too thin such that droplets can seep through. Tightly woven cotton or polyester fabric are your best bets. Fabric made of 100% cotton is comfortable to wear but effectiveness is not a hundred percent. Polyester and cotton blends may have extra protection such as being able to repel water and moisture, which may also apply to droplets.
Test the fabric before you start creating masks. Cover your mouth and nose and try breathing in it. If the fabric allows you to breathe comfortably, you should also feel that there's limited air particles getting through.
Rough, velour or velvet, sequined, satin, denim and silk materials are a no-no. If you like your mask to be more exciting and colorful, choose T-shirts or other fabric with prints or designs that you like. Just remember that the preferred material is 100% cotton or cotton-polyester blends.
Before creating your facemask, wash all your fabric materials clean. Make sure the fabric doesn't shrink with washing.
Durability of Materials
Think of your facemask as your lifeline when you're out in the streets. Without it, you're vulnerable to a deadly virus and that contracting it not just endangers your life but the lives of people close to you as well. So don't use cheap, easily ripped, easily broken materials. Elastic bands should be string and do not easily snap and fabrics do not tear, or else you will be putting your health, and potentially your life, at risk.
Characteristics of a Good Face Mask
The main objectives or purposes of a facemask are 1) to keep the wearer safe from viruses and pathogens by preventing the inhalation of the droplets, and 2) to keep other people safe by preventing the wearer from exhaling the virus, if he or she has already contracted it with or without his or her knowledge, into the surrounding environment. Since the wearer would have to regularly wear the mask, the facemask should fit comfortably around sides of the face but cover completely the mouth and the nose – the main parts of the body that the pathogen may enter. The mask should be secured with ear loops, bands or strings to prevent it from accidentally falling off. A good mask must allow the wearer to breathe comfortably through the fabric. If possible cloth facemasks must have pockets for filters. Also, the fabric must be durable and adequately thick such that it will not be worn off immediately with repeated washing and laundering.
DIY Mask #1: Fold-and-Tuck Bandana or T-shirt
This is a very easy way to make a face covering. You can do it anytime, anywhere as long as you have the following materials:
a bandana, a small scarf, a T-shirt or any adequately sized cloth
two pieces of durable elastic rubber bands or rubber hair ties
an optional coffee filter or paper towel, if available
a pair of scissors
First, check the cloth or fabric that you will use. The best fabric types for a face mask are preferably those that are tightly woven or made of 100% cotton.
A bandana or scarf that is too thin is not recommended. It will not serve its purpose to protect you from the virus. Check the thinness of the fabric by holding it up to the light and check how much you can "see through" it. The more you see, the less effective the fabric is to be used as a facemask. On the other hand, a too thick cloth, for example a wool T-shirt folded thickly, will not do either. Either you'll have a hard time breathing or the rubber bands will snap.
If you are using a T-shirt, cut horizontally at the bottom – at least 7 to 8 inches thick – of the shirt, such that you now have a rectangular strip of material.
The quality of the rubber bands is also important. You do not want any of the bands – or worse, both bands – to snap while you are already outdoors. Make sure they are thick and adequately sized such that when you wear the face covering it won't feel painfully tight, rather, it should feel comfortably snug.
Lay the bandana or fabric on a preferably flat surface.
Fold it in half, lengthwise. If the width is still too big for your face, then fold it again.
If you have a coffee filter or paper towel, you can fold it in with the bandana. This will provide you with additional protection, like an extra wall that will block the droplets from entering your nose or mouth.
Next, put the elastic bands around each edge of the folded bandana or cloth, stopping at each side to leave enough space in the middle, which will serve as the part that will cover your face.
From where the rubber bands are, fold the cloth or bandana edges inwardly tucking both ends carefully so that the cloth fits your face snugly. The rubber bands serve as the connectors to your ears.
Now, enjoy your quick trip to the grocery store, or to wherever you're off to. Just make sure that if you used a coffee filter or paper towel, replace it immediately when you come home.
DIY Mask #2: Socks Mask
Here's another easy-to-do mask, and the materials are easy to procure. All you need to prepare are the following:
a long sock, preferably brand new or slightly used
a pair of scissors
a piece of bond paper or coffee filter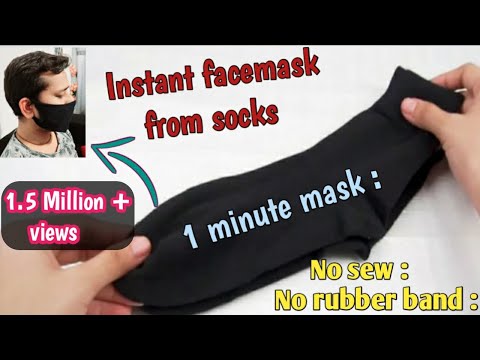 Get a long sock, preferably a new one. A used sock is also acceptable as long as it's clean and not yet worn out. A sock's fabric is a good alternative to a face mask.
Lay the socks flat on a surface. Cut off the foot part. That will leave you with the leg part of the sock. Cut nicely at least 7 to 8 inches, depending on the width of your face.
Then measure from each edge at least 1 inch and cut a slit. These slits will serve as the bands that connect to the ears.
Next, fold the piece of paper into a rectangle, size it so that it will fit inside the sock mask perfectly. This will serve as an extra barrier or guard so that droplets won't be able to penetrate through. It will also provide a little bit of firmness and shape to the mask. However, if you have a coffee filter at home, it would be best to use it instead of the bond paper so that breathing will be much easier.
DIY Mask #3: T-shirt Sleeve
In the previous facemasks that used T-shirt fabric as material, the hem part was used. This time, aside from the hem, the T-shirt sleeve will form part of the mask. This stylish facemask should take only five minutes to finish.
Prepare only the following materials:
T-shirt with short sleeves
a pair of scissors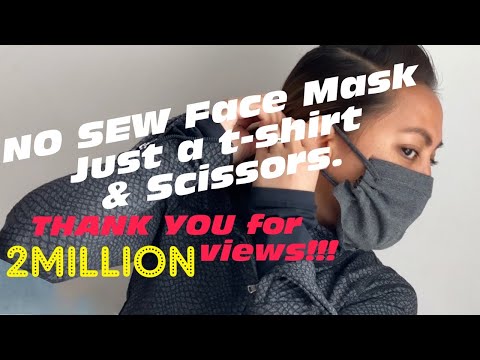 Lay the T-shirt flat on a surface. Get a pair of scissors and cut the sleeves off from the shirt. Trim as close as possible to the armhole's seam. Next, flatten the cut-off sleeve with the armhole seam facing up and center. The cut-off sleeve should now look like a french-fry pocket.
Fold at least one inch on the right edge of the flattened sleeve. Using the scissors, make small (around half an inch) cuts or slits along the sides of the fold. Make sure you are able to cut through both layers of the sleeve. For an average-sized T-shirt sleeve, you should be able to make six or seven slits.
Do the same steps on the left edge of the sleeve: fold then cut slits along the fold. Set aside for a moment.
Going back to the T-shirt, cut horizontally across the seam of the hem, at least one-half-inch thick. Cut another strip above the hem, just like the one you've just cut. Then cut a third and a fourth strip.
Take all four strips and loop them as one into an 8 shape or infinity shape and then fold such that you have a loop. Stretch the loop repeatedly until they begin to curl and look like strings.
Cut in the middle and you'll have eight strings.
Now go back to the sleeve that you have prepared earlier. Thread the strings into the strips that you cut along the edges. As if you are doing a running stitch, weave the strings in one of the strips then out in the other repeatedly until you have threaded all the holes. As soon as you have finished threading the string on one side, tie the ends of the string together into a tight knot so that the string won't get loose. Do the same for both sides of the sleeve.
When you're done, stretch the strings pulling the sleeve, which is now your facemask, with it. Your facemask is ready! Try fitting it and adjusting the knots on the string as needed until you get that perfect, snug fit.
DIY Mask #4: Improvised Paper Towel
What if you're stuck somewhere, and all you have are paper towels? No worries, you can improvise on the paper towel to make a facemask. This is the paper towel version of our DIY Mask #1. This mask however is disposable and should not be used for long hours, more so, for more than a day.
Here are the things you will need:
a sheet of paper towel
two pieces of elastic bands or rubber bands
staple with staple wire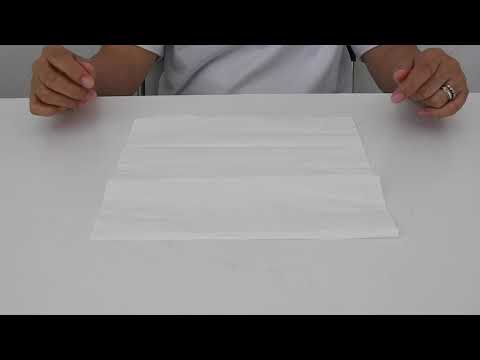 Get the paper towel and lay it on a flat surface. Start folding from the bottom all the way up until it is completely folded. Make sure that the size of your fold is proportionate to the size of half your face so that your mouth and nose will be fully covered.
Loop the rubber bands on each side of the folder paper towel. Before doing so however, you should have already tried and fitted the towel on your face so that you can attach the rubber band to the exact point in the paper towel. This ensures that the improvised mask will fit you properly and comfortably. Too tight and the paper towel might break off at the sides. Too loose and your mask will fall off.
As soon as you've marked the area where the rubber band should be, staple the rubber band on place. Do this on both sides. Before putting on your newly made face covering, slowly open the folded part of the paper towel. Now you can start wearing your improvised disposable facemask!
Conclusion
Many people are born creative. But it doesn't take ingenious talent to be able to create your own facemask. Until a vaccine for COVID-109 is finally out for mass production, the new normal will always include social distancing and the use of facemasks. Why spend when you can create? You'll be doing yourself a favor by getting rid of the shirts you are no longer wearing, at the same time you're saving money and stimulating your creative juices. And if you're one of those people already bored with the prolonged community quarantine, creating facemasks is a fun, useful way to pass your time.