OPPO Teases Rollable Smartphone Concept OPPO X 2021
OPPO has just served what appears to be the next big thing in the smartphone industry. Assuming it thrives, of course, during its development.
Dubbed as the OPPO X 2021 concept smartphone, OPPO's newest breakthrough in mobile display technology features a continuously variable rollable OLED panel. The handset then uses the Chinese tech giant's homegrown Roll Motor powertrain to expand the phone's display from 6.7 inches to 7.4 inches, converting a regular-sized handset to a full-blown phablet.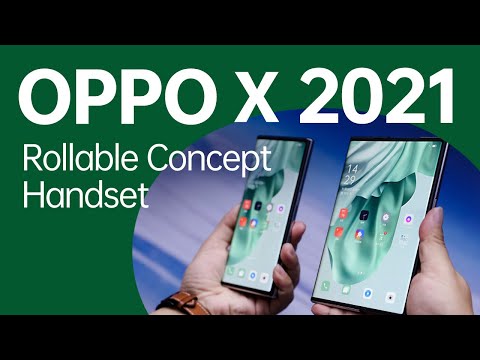 The powertrain comes with two motors that generate a constant force, which is developed to unfold the smartphone uniformly; this also ensures that the display isn't damaged when the mechanism is activated.
Meanwhile, the said powertrain gives users the freedom to unroll the display as much as they want to. This same system sets this rollable smartphone apart from the foldable ones as the latter only come with two states- folded and unfolded.
Another hallmark of a rollable smartphone that makes it different from the foldables is that the display doesn't have kinks or visible folds.
How did OPPO manage to do this? Accordingly, the firm's engineers have developed a bearing with a slider on the panel side with a 6.8mm arc. This very arc enables the phone's display to roll back, barring any visible folds in the process.
But how rigid are OPPO's rollable displays? Now, as the OPPO X 2021 doesn't come with the most rigorous of displays compared to conventional panels in the market, the company designed a much-needed 2-in-1 Plate display support technology. This supports the display on either side, from the inside.
The plate features a comb-like structure that appears to support any type of shape a display features. The mechanism behind also ensures that the panel remains smooth when it's rolled out.
OPPO also adopted a dynamic frame for the display, which should come in handy when the sliding mechanism from the back needs protection. The structure comprises an outer fixed frame and a sliding frame placed within.
Understandably delicate like foldable displays, the OPPO X 2021 concept smartphone also uses an in-house Warp Track high-strength screen laminate which adds some more strength to the panel.
To date, OPPO has already applied for 122 patents during the development of the OPPO X 2021. Twelve of these are related to the rolling mechanism that has just been showcased.