6 Tips for Maintaining and Cleaning White Sneakers that Every Sneakerhead Should Know
6 Tips for Maintaining and Cleaning White Sneakers that Every Sneakerhead Should Know
Follow these tips on how to maintain clean and good as new white sneakers!
Your white Air Force 1 or Stan Smiths are a great match to almost every outfit you have inside your wardrobe. And while you're always wearing them on almost every occasion, proper maintenance is a must since they look their best when they are kept pristinely clean. White sneaker maintenance is not as easy as doing the laundry. It can be a burden sometimes especially if your white canvas sneakers got badly stained. Yes, your cozy and sparkling white kicks can turn dirty very fast. So, living with your favorite white sneakers requires responsibility to keep them good as new, always.
Don't panic! Here are some hacks that every sneakerhead like you needs to know to keep your white sneakers pristinely clean as new.
Use a washing machine for fabric or flyknit shoes ONLY
Using a washing machine when cleaning your white kicks is only recommended for the fabric and flyknit ones. Put them first in a mesh laundry bag before running through a delicate cycle. You can also remove the laces and insoles first for deep cleaning. Add a little baking soda to the tub to whiten your shoes even more.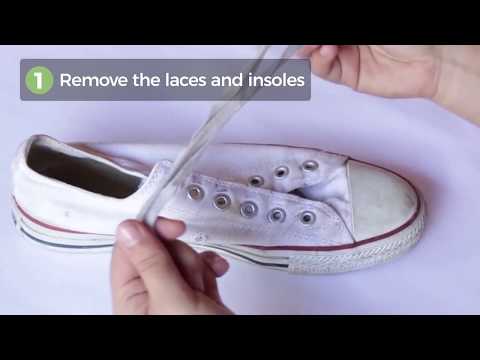 Bear in mind that cleaning your white sneakers with a washing machine can greatly decrease their life span so don't do this on a regular basis.
NEVER use a laundry dryer
Never ever dry your sneakers using a laundry dryer, instead, always dry them indoors. When drying your kicks, sunlight is your enemy. Letting your white sneakers dry under the sun means letting them turn yellow. In drying your white sneakers, patience is key.
Always wear them with socks
Don't be lazy, wear those socks! Wearing socks with white sneakers keeps them crisp and white. By doing so, you are preventing sweat stains that are often hard to remove from your white sneakers. Pairing your white sneakers with any type of socks will surely look great!
Shoe wipes for smudges and on-the-go messes
Try considering handy shoe wipes for the smudges and on-the-go messes that you don't want to stay on your white sneakers. Shoe wipes are handy so it's easy to add this to your everyday essentials.
Get the best deal here!
Wipes

P863
Reference price
Buy at
Shoe cleaners for heavy duty stains
Your handy shoe wipes probably won't work for the heavy duty marks on your white shoes. This time, opt for water-based shoe cleaners, for they are less harsh on your shoes than the chemical ones. See product instructions on how to use it for good results.
Get the best deal here!
Premium Shoe Cleaner and Conditioner

P449
Reference price
Buy at
Brush your shoes gently, don't scrub
Brushing your white shoes aggressively won't do any good. It's a common misconception that the harder you brush, the cleaner it will get. Nah! Doing so loosens the fabrics and gives your white sneakers a worn-out look especially for knits, mesh, and canvas shoes. A medium-bristle shoe brush or your old toothbrush will work with just light and rapid strokes. Don't use your hands, instead, let the cleaner and your brush do the work.
Just follow these tips and enjoy your clean, long-lasting, white sneakers!