VAIO: 11.6-inches SIM-free for LTE mobile notebook released
According to the company, VAIO S11 is built to address the demands of business people who are frequenlty on the go. In addition VIAO has developed this device not just to cater consumers who are looking for compact notebooks but also to target users who are frequently using mobile data in different places at a daily basis.
Although there are a lot of available freqency avialable depending on the SIM or Carrier, the VAIO S11 is designed to optimized the usage of LTE in a sense that external and internal components are calibrated in order to exert the full potential of the device. In such. the antenna is placed on top of the LCD where it cannot omit noise and improve reception as well as body materials including paint were also carefully developed to secure radio waves that would affect reception sensitivity.
VAIO S11 Specs
Colors
Black/Silver/White
OS
Windows 10 Pro/Home 64-bit
Windows 7 Professional with Service Pack 1 64-bit
Processor
Core i7-6500U(2.50GHz)
Core i5-6200U(2.30GHz)
Core i3-6100U(2.30GHz)
Memory
8 GB(On-board)
4 GB(On-board)
Display
11.6-inches Wide display (1920x1080)
Graphics Accelerator
Intel HD Graphics 520
Storage
SSD: 512GB (PCI Express x 4 (2nd Generation high-speed SSD))
256GB (PCI Express x 4 (2nd Generation high-speed SSD))
128GB (Serial ATA)
USB
USB3.1 Type-C(SuperSpeed USB 10 Gbps, Thunderbolt 3, DisplayPort 1.2 support) x 1 USB3.0 x 2
Network(LAN)
LAN(RJ45) x 1
External Analog display port
Mini D-Sub 15pin x 1
WAN
3G, LTE, microSIM type, LTE band(LTE:1, 3, 19, 21 3G:1,19))
WLAN
IEEE 802.11a/b/g/n/ac
Bluetooth
Bluetooth(R) 4.1
Memory Card slot
SD memory card slot x 1
Camera
CMOS sensor equipped HD web camera (9.2 MP)
.
Keyboard
backlit equipped
Estimated Hours of use
11-15.2 hours
Dimension
284.0 mm x 16.4-19.1 mm x 190.4 mm
Weight
0.92-0.94kg (With battery)
VAIO S11 Images
The SIM-free for LTE mobile notebook is available from Dec 18 in Japan. Buyers can purchase by choosing their desired specs and carrier (VAIO is also offering its own SIM plan for PC data communication) using the company's "VAIO OWNER MADE". Prices for the VAIO S11 starts from 114,800 Yen (P44,767 *Currency rate of Dec, 2015) excluding tax.
VAIO S11: Durability at its finest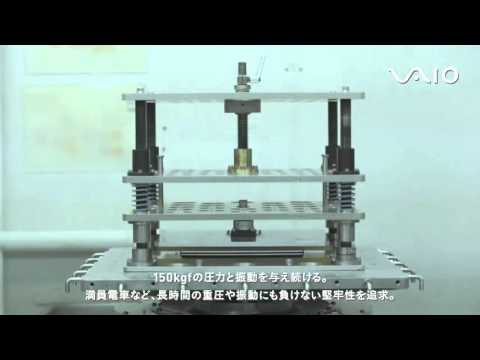 Video is not in English.