Acer Releases its Refreshed Swift Laptop Lineup with Prices and Availability
The Taiwanese computer company, Acer has unveiled its latest lineup of the refreshed Swift laptop line during the IFA 2018 in Germany. The Swift 7, Swift 5 and Swift 3 are ultra-portable class laptops and are deemed to be among the lightweight computers in the world.
Acer Swift 7
Acer dubbed the Swift 7 as the "thinnest laptop in the world." Measuring at under half an inch thick and weighing just 1kg, this laptop is among the slimmest the world has seen, making it favorable for commuters who are on the move frequently.
The display received an upgrade and sports a very minimum bezel, with the screen taking at least 92% of the territory. The exact screen size has not been divulged by Acer yet but could see a 14-inch full HD IPS display as well, which is the same as the last-generation Swift 7 model. Acer says that this laptop will come with an 8th-generation Core i7 processor.
Acer Swift 5
Not to be left behind, the refreshed Swift 5 will also have very thin bezels but on a 15-inch full HD 1080p display. It measures just over an inch thick, though it is little lighter at 990 grams, making it easy to stow this laptop into any bag.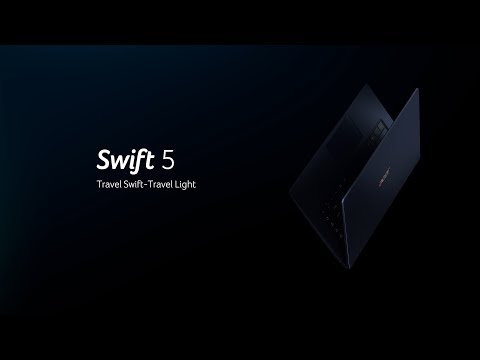 The new Swift 5 will offer 2 processor variants, the 8th-generation Intel Core i7-8565U and i5-8265U processors, both of which are designed to be very power-efficient and will give this laptop 8 hours of battery life at the most, good enough for an entire office shift.
Acer said that the 15-inch variant of this laptop will be available for purchase in November for EUR 1099 (around PHP 69,000) in Europe, while the American release will be held on January 2019 with a tag price of USD 1099 (around PHP 59,000). The 14-inch variant will be available this month for EUR 999 (around PHP 62,000).
Acer Swift 3
Like the 2 laptops in this list, the refreshed Swift 3 will also sport slimmed-down bezels. This will come with either a 14-inch or a 13.3-inch full HD 1080p display panel.
For users who absolutely must be connected all the time, this laptop has built-in 4G LTE support, though this will be at the expense of a shortened battery life. Other specs are 8th-gen Intel Core processors which haven't been disclosed yet, along with 8GB of memory. Acer claims that the Swift 3's battery can last up to 13 hours.
Both the 14-inch or the 13.3-inch Swift 3 variants will be available later this year in Europe, with the 13.3-inch model seeing an October release, while the 14-inch model will be available in November, both having a price tag of EUR 799 (around PHP 50,000).
Conclusion
The Swift laptop line caters to users who travel a lot and do not want to carry a heavy laptop with them but still need a powerful computer.
The refreshed laptops will be released later this year, but Acer has not yet revealed the full details on price and availability.