ASUS Launches the E210, E410, and E510 Budget Laptops
ASUS has recently revealed three new value-packed laptops namely, the ASUS E210, E410, and E510. All these are designed keeping in mind the young students who look for lightweight, eye-catching laptops with trendy colors and, above all, better computing capability.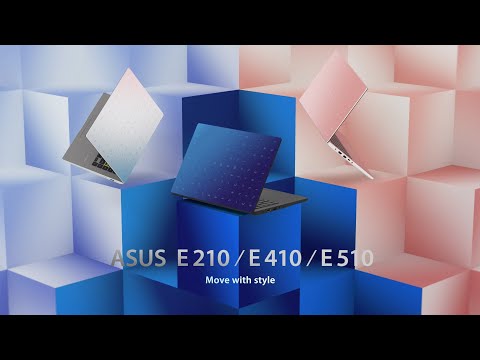 The ASUS E210, E410, and E510 feature a unique deconstructed ASUS lid motif design and are offered in three very striking color options such as Peacock Blue, Dreamy White, and Rose Gold. The first two colors are reflective enough to change hues with the change in viewing angles while the third one has a subtle finish.
When the laptops are opened the Enter key stands out for its yellow accent. Also, there is a 6-inch ASUS NumberPad which combines the number keypad with the touchpad to speed up the number typing. One can, however, inactivate the number keypad, if the user wishes so by just tapping on an icon on the touchpad.
The 180-degree lay-flat design comes in handy to show around on-screen information to a bigger group of friends and colleagues. These compact laptops are easy to carry around as they comfortably slip into a backpack or a smaller bag.
The ASUS E210 is just 1.05kg with an 11.6-inch display while the E410 is 1.3kg with a 14-inch display. The E510 weighs a mere 1.35kg that too having a larger 15.6-inch display.
| | E210 | E410 | E510 |
| --- | --- | --- | --- |
| Display size | 11.6-inch | 14-inch | 15.6-inch |
| Weight | 1.05Kg | 1.3Kg | 1.35Kg |
The E410 and E510 come with NanoEdge design where bezels are significantly shrunk allowing the screens to have maximum visual space. All three laptops also have a fan-less design that ensures the necessary quietness to their users while they perform their tasks.
The ASUS E210 is powered by an Intel Pentium Silver N500 processor while the E410 is driven by an Intel Celeron or the Intel Pentium Silver N500 processors. As of this writing, ASUS hasn't specified yet the name of the processor used in the E510. All the laptops, however, wield up to 512GB PCIe SSD and 8GB RAM.
E210
E410
E510
CPU
Intel Pentium Silver N500
Intel Celeron
Intel Pentium Silver N500
To be announced
Memory and Storage
512GB PCIe SSD and 8GB RAM
This potent hardware allows for snappy booting time and lag-free multitasking sessions which may last for longer as these laptops are fitted with a high endurance battery that has longevity for up to 12 hours after a single full-charging.
To get more out of these laptops one can use the MyASUS feature, a collection of several ASUS apps and tools meant for syncing your iOS and Android phones with the laptop, optimizing performance, contacting after-sales service and support, and many more such type of things.
Pricing and release dates in the Philippines are yet to be announced.