The Airless Tire: 'UPTIS' Coming Soon
The Airless Tire: 'UPTIS' Coming Soon
Apart from the "UPTIS" tires being airless and puncture-proof, Michelin claims that the tires are environmentally-friendly as well.
The French tire manufacturer Michelin, together with General Motors (GM), has now presented a new generation of the "tweel" airless tire technology. Dubbed as the Michelin UPTIS Prototype (Unique Puncture-proof Tire System), the innovative airless tire will reportedly get equipped in passenger vehicles as early as 2024.
As per GM's Senior Vice President of Global Purchasing and Supply Chain, Steve Kiefer, "General Motors is excited about the possibilities that UPTIS presents, and we are thrilled to collaborate with Michelin on this breakthrough technology. Kiefer added that the upcoming prototype should be ideal for pushing the automotive industry into the future and that it is a great example as to how their customers would benefit from a collaboration that banks on the innovation with the company's supplier partners.
The use of airless technology in the UPTIS prototype proves to be quite a staggering breakthrough as it eliminates flats and occasional blowouts. This, in turn, should reduce the dangers which are related to vehicular altercations. Also described as environmentally-friendly, the prototype should significantly reduce the use of raw materials and waste down the line.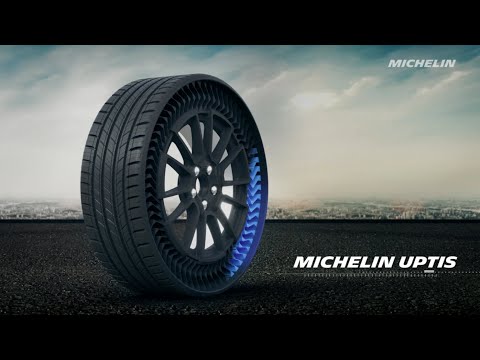 The UPTIS prototype is also bound to reduce the use of energy for production and emissions. And as over- or under-inflation are also eliminated, the tires should also last longer, maximizing the consumers' value for money. All things considered, all of these reductions and eliminations reflect GM's vision for a world where crashes, emissions, and congestions are diminished.
The "tweel" airless tire technology has already been around since 2014, with its first concept dating all the way back to 2005. During that year, the technology was noted to have debuted in John Deere vehicles, featuring deformable spokes as opposed to air filling the tire. Consequently, the dangers of having a flat or blown-out tire were all eliminated in the process.
This year, GM is set to begin the real-world testing of the UPTIS tire prototype right on a fleet of Chevrolet Bolt Evs. And with the company now slated to try out Michelin's airless tire, it won't be a surprise if other brands such as Chevrolet, GMC, and Cadillac follow suit.