PodRide: Drive a four-wheeled vehicle without a license
PodRide: Drive a four-wheeled vehicle without a license
Looking for an Electric bicycle that comes in 4 wheels and more? Then you better check out PodRide!
You can now drive a four wheeled vehicle without a license wtih PodRide. PodRide is a fully-covered bicycle that looks like a small car that comes along with many interesting benefits perfect for our environment and our wallets.
The vehicle is proven to provide a dry and safe ride in all seasons thanks to its fully waterproof built. It is mounted with an electric motor and at the same time provides the rider the time to exercise while going anywhere they want. The PodRide is a cool invention that brings you to work, lets you park free in the city center and easily drive along narrow roads.
PodRide can be used safely whether it rains, shines or snows. It's a lightweight vehicle that you can easily drag around. It is complete with a windshield with wipers, a soft seat with back support, air suspension and durable tires that can also be used during winter. It can easily be driven on curves and even provides good access and visibility during traffic.
It also comes with a small trunk for your grocery or baggages. The reason behind why the PodRide can be used without a license is because to put it simply, its a 4-wheel electric bicycle. Not only is it easy to ride but it also helps its user minimize cost and headache. The 4-wheel electric bicycle can move up to a speed of 25km/h and has a power of 250W.
The PodRide is a great velomobile invention that has many benefits for our environment. Imagine the huge number of cars sold per year compared to bicycles. Bicycles all around the world reach up to 130 million for each year. While the number of cars sold for each year reaches up to 60 million. So if you have plans on buying an electric bicycle that comes with 4 wheels and lets you drive through any weather, not to mention environmental firendly, then the PodRide is definetely a good choice for you.
PodRide PV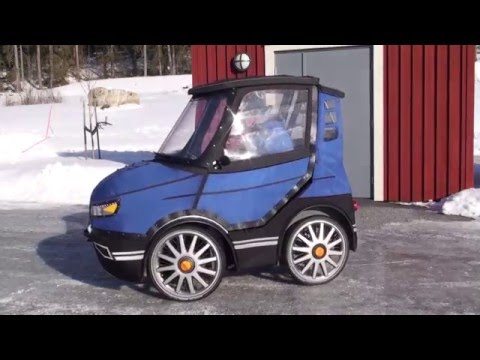 Technical Specs
| | |
| --- | --- |
| Length: | 180cm |
| Height: | 145cm |
| Width: | 75cm |
| Weight: | 70kg |
| Wheel: | 20inch tires |
| Wheelbase: | 88cm |
| Motor: | 250W electric |
| Gears: | 14 speedshub |
| Range: | 60km |
| Speed: | 25km/h(with motor) |
| Video: | 4K at 30fps, 1080p at 30, 60, 0r 120fps, 720p at 240fps |
| CO2 emissions: | 7g/km (Car 140g/km, Electric car 70g/km) |