Honda's cute Robots to be shown at CES 2018
Honda's cute Robots to be shown at CES 2018
Honda is going to showcase as many as four robots as part of its "3E Robotics Concept" at the CES 2018 to be held in Las Vegas next month. Out of the four, the one small companion robot is strikingly endearing for its smiley face. It is capable of showing compassion, thanks to its numerous cute facial expressions.
This is already in the public domain that Honda has been doing Robotics research and now the Japanese automaker revealed that at the upcoming Consumer Electronics Show (CES) 2018 it will unveil "3E Robotics Concept" based on Empower, Experience and Empathy themes.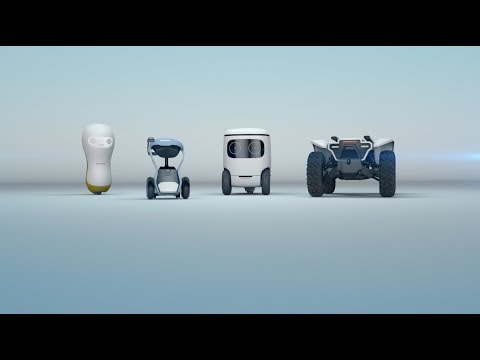 In total Honda will unveil four robots that are the result of an array of experimental technologies intended for a variety of roles.
First in the lineup is the 3E-A18, which is termed as "companion robot" that is capable of showing compassion to humans with the help of a variety of cute facial expressions. The second one is the 3E-B1B, a single-seat mobility concept designed for casual use in indoor and outdoor space.
Whereas the third one in the mix, the 3E-C18 is a small wheeled electronic machine with "multi-functional cargo space". The fourth one is the 3E-D18, which is the biggest and the most rugged-looking self-driven off-road vehicle to help people with a broad range of work activities.
All the four robots are far cry from the usual creepy look that the robots are associated with. They rather look adorable. The 3E-A18 wins hearts for its smiley face.
As these robots are, in a way, assistive devices, perhaps they are geared towards helping the senior citizens. And since the senior citizens feel nervous to use the complex robotic technology, we believe the easy look of all these robots are deliberate attempt to woo them.
However, these are concepts as of now and may take years to get to the consumer market. Or at least the technology might be utilized in similar sorts of machines in the near future. Whatever may be the fate of the 3E Robotics Concept, we can catch the robots quartet live in action at the CES 2018 just next month in Las Vegas.