Day to Night Makeup? Let Celebrity Makeup Expert Albert Kurniawan Show You How!
Day to Night Makeup? Let Celebrity Makeup Expert Albert Kurniawan Show You How!
Albert Kurniawan has done numerous gorgeous looks for celebrities like Heart Evangelista, Kim Chiu, Toni Gonzaga, and even Miss Universe 2017 Demi-Leigh Nel-Peters. Now, you're in for a delightful treat!
Albert Kurniawan is not Filipino, but he might as well be, given that he has devoted most of his time in the Philippines as a makeup virtuoso for various celebrities. He is, in fact, one of the most sought-after expert in the field of makeup artistry. This Indonesian makeup guru is apparently known for his clean and seamless works on celebrities like Toni Gonzaga, Angel Locsin, and Kim Chiu. Albert is Heart Evangelista's makeup artist and close buddy, at the same time.
Recently, Heart released a makeup tutorial video through her YouTube channel, featuring Albert. The vlog focused on a morning-to-evening look that Heart had to replicate by following Albert's makeup tips and tricks. If you're also looking for that ultimate look to last you from day to nighttime, then read on and learn from the expert!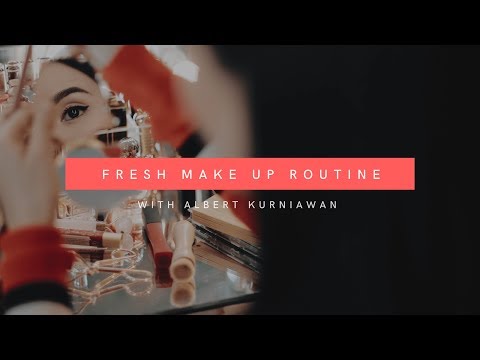 Albert is all for the fresh makeup look. This type of makeup will definitely last you all day, and it's something that you can wear for any occasion and event. To start, Heart uses a BB cream as a primer and foundation for her already flawless skin. To seal it, Albert applies baby powder all throughout her face. Any brand that you're comfortable with will do.
Once you're done with the face, you can start with the highlights using your favorite highlighter. Make sure that you put some on your cupid's bow to make your lips look fuller. Apply some on the bridge of your nose, too. When contouring the face, don't get too excited! Albert believes that when you are too "gigil", you end up making a line that would cut your face. To make it look more natural, bite your cheeks first so you can see the line from your jaw to your skull. This will be the starting point of your contour. You can build from there up to the temple area to create depth.
Add some color on your cheeks by applying blush and crossing it over your nose. Apply some on the brow bone for a more natural look.
For the eyes, put light eyeshadow first to flatten the entire eye area. Use white powder then apply contour powder to create a soft glam look. Make sure that you cover the entire eyelid and blend well using a small circular motion. For a pigmented color, wet the application brush and add some hue on your lash lines. Smudge lightly. This trick will also make your eyes look bigger. Once done, apply eyeliner and curl your lashes using your favorite waterproof mascara. Get dramatic eyes by donning false eyelashes. The key here is to pre-cut the falsies first according to the shape and size of your eyes. Once you're ready to put it on, always start by gluing it to the middle lash line, and outwards. Don't forget to highlight the inner corner of your eyes!
Give your brows a fresh start by brushing it first. Start on the outer part going in. You can use an eyebrow palette or gel to shape your brows. For the last step on eye makeup, add some glitter or shimmer on the middle of the lid to make your eyes pop. Apply finishing powder to set your makeup.
For the lips, outline your lips using your fave lip liner. Nude colors create a more natural look so opt for the brown and nude lippies. Add some highlighting cream on your cupid's bow and contour the area underneath the lower lip. Blend well.
With these makeup tips from the makeup expert himself, you're all set for a new day of adventure! This time, with more confidence and finesse.