Lauren Curtis is a beauty vlogger who is known for her quick and honest reviews of various products. In this video, she tries out two foundations that have a reputation for being the most full-coverage in the market.
Which foundations is she talking about? It's the Dermacol Make-up Cover and the Marc Jacobs Re(marc)able Full Cover Foundation Concentrate.
The Dermacol Make-up Cover is known for being super thick and full-coverage, so much so that it can be used to cover up tattoos!
On the other hand, the Marc Jacobs Beauty Re(marc)able Foundation is packed with pigment that can be used alongside a lesser-coverage foundation to give it more coverage.
Lauren tries the two foundations on her face to see which one lasts longer. Off the bat, the Marc Jacobs one creases faster on both the eyes and mouth. After a couple of hours, it's clear to see that the side with the Dermacol foundation looks more glowy and natural compared to the side with Marc Jacobs.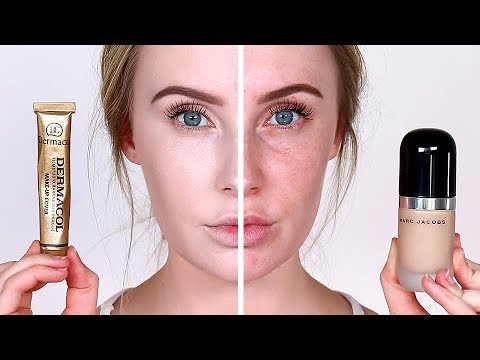 Of course, this would all depend on your skin type and the weather in your country. So the best way to really know which full-coverage foundation is best is to try both out for yourself!