Makeup Brushes 101: 9 Essential Brushes You Should Have Inside Your Makeup Kit
While you are spending too much for all your makeup, little do you know that you should invest in makeup brushes too! Try to remember the days you started putting on some makeup. I bet many girls like you settled to just one or two brushes before. You might be using the same brush for your foundation and blush. You might be also thinking that all makeup brushes are the same so buying different kinds is not that important. Here's the thing. As much as the quality of makeup products matters, the brushes you use impact the overall result of your look as well.
So, if you are still settling with just one or two brushes in doing your makeup, maybe now is the time for you to make space in your makeup kit for some new ones. Remember, it doesn't have to be branded or in the highest quality. The main key here is all about finding what works for you. Personal preference is a factor but it is also important to keep in mind if what makeup products you are working with. Some apply better with a sponge, some with a brush, and some also work best with just fingertips. There are no specific rules in doing makeup but just like other things, certain brushes work better for certain makeup products. With that, we give to you this list of 9 makeup brushes you should have in your daily makeup bag.
Essential Makeup Brushes to Own
1. Foundation Brush
Made with tightly packed bristles and tapered tips, this brush is used to apply your foundation, giving you a smooth and flawless finish. To apply, distribute and blend liquid foundation across all areas of your face for a smooth finish. Do not forget to distribute your foundation evenly to your neck area too. You can also slightly dampen your foundation brush with warm water to allow even distribution to your face.
Get the best deal here!
FS Cosmetics Foundation Brush

P325
Reference price
Buy at

A tempered-dome foundation brush to let you evenly apply cream or ...

see more details
2. Powder Brush
With its long and fluffy bristles, this brush is intended to dust your face with either loose or compact powder. It is designed like this so it will prevent you from pressing on too much product to your face, making you look like a powdered doughnut. In using this brush, it is important that you have a light hand to set your powder or touch up your makeup so it will not move any of the other present makeup on your face.
Get the best deal here!
Real Techniques Powder Brush

P650
Reference price

A powder brush with plush, large head for sheer application and ...

see more details
3. Blush Brush
Blush brushes are quite the same with powder brushes but a blush brush has a more rounded head and is more compact than a powder brush. Designed also with loosely-packed bristles which makes it not super-dense, blush brushes will give you just the right amount of product you want for your cheeks. To apply, stamp gently little product on your cheeks and blend it well on the apples of your cheeks while eliminating the chance of harsh lines to appear.
Get the best deal here!
wet n wild Blush Brush

P199
Reference price

The perfect blush brush designed perfectly for the apples of your ...

see more details
4. Concealer Brush
To achieve a flawless look, you must correct your flaw spots and achieve an even complexion using a concealer brush. Designed with flat soft bristles and having a wide base and pointed tip, these are actually good to have for applying concealer precisely to small areas. Flat concealer brushes will let you pick up and blend products flawlessly while the slightly pointed tip will allow you to be subtle with your application. Use it to apply concealer under the eyes or to hide dark spots on your face.
Get the best deal here!
Hourglass Cosmetics No 8 Large Concealer Brush

P2,350
Reference price
Buy at

A concealer brush designed to be firm and tapered to provide you ...

see more details
5. Highlighter Brush
Finishing your makeup with shimmers will definitely give you that glowing and flawless look! And here's where highlighter brushes (or fan brushes) come to work. These brushes are medium-sized, firmly bristled and flat, allowing you to press shimmer onto your skin with its wide side then blend it well with its edge. It's not made fluffy like a powder or blush brush, so you can easily control it when dusting highlighter on your face.
Get the best deal here!
Sigma Beauty F41 Fan Brush

P650
Reference price
Buy at

A fiber fan brush to help you get your glowing highlight perfect.

see more details
6. 2-in-1 Defining Brush for the Brows
Eyebrows are a big part of your look and this 2-in-1 defining brush can definitely help you with that. This makeup brush comes with a dual angle, one side having a spoolie brush and an angled side on the other end. Angled bruses have very firm bristles and a really narrow edge, giving you well-defined eyebrows. You can use this angled part with any brow products you have, eyebrow pomades, waxes, gels, and powders. Use the spoolie brush to blend the product well on your brows, giving you a natural-looking and flawless well-defined brow.
Get the best deal here!
Anastasia Beverly Hills Brush 12

P1,255
Reference price

A dual-ended brush with a tapered, angled brush end that creates ...

see more details
Eyeshadow Brushes
To do your eyeshadow makeup like a pro, you actually need three different eyeshadow makeup brushes. A small one, a medium-width, and a tapered eyeshadow brush. Keep reading to know the differences between these three eyeshadow makeup brushes.
7. Small Eyeshadow Brush
This small eyeshadow brush has short, slightly firmed, soft, and dense bristles, and a rounded tip. It is used for applying eyeshadow to small spaces like below the arch of your brow, inside the corners of your eyes, and around your tear ducts.
Get the best deal here!
wet n wild Small Eyeshadow Brush

P140
Reference price
Buy at

A small, domed brush with short, rounded bristles designed to pick up ...

see more details
8. Medium-width Eyeshadow Brush
You need this medium-width eyeshadow brush for applying product to your lids and brow bone. With its fluffy yet dense bristles and flat edge, it's capable of both brushing on a light shade of color and building a heavier line.
9. Tapered Eyeshadow Brush
Blending is the key to achieve perfect eye makeup. When it comes to blending your eyeshadow, having a tapered eyeshadow brush in your makeup kit is essential. This brush is specifically designed to be long, thin, and flexible, with loosely-packed bristles and a tapered tip, allowing you to glide with ease, blending your eyeshadow products amazingly and smoothly.
Get the best deal here!
Palladio Flat Shadow Brush

P500
Reference price
Buy at

Perfectly sized for applying eyeshadow to the lids to let you create ...

see more details
How to Make Your Brushes Last Long
Your brushes are your investment so it's important to take care of them to make the most of the money you spent. Cleaning your brushes ensures that they will maintain their quality and won't be bent or damaged by makeup buildup.
Here's a short video tutorial on how to clean your makeup brushes.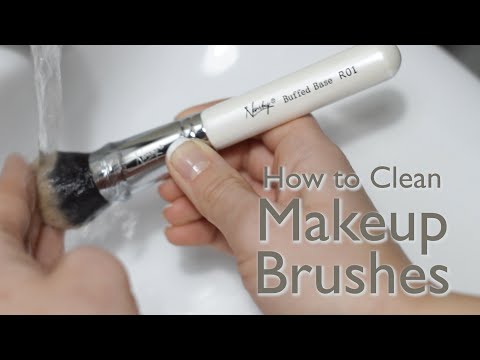 You don't need hundreds of different makeup brushes in your makeup bag to achieve an amazing makeup look. These 9 brushes are helpful enough, so now's the time to add these to your collection!