Filter

Condition

Shop Type

Shop Type

All
Online & Physical Shop
Physical Shop
Online Shop
Private Seller

Payment Method

Payment Method

All
Credit Card/Debit Card
Bank Deposit
Over the Counter
Cash on Delivery
Installment
Others
#01 Heart Grapefruit #02 Pretty Orange Pink #03 Sold Out Red #04 Beautiful Coral Pink #05 Elf Light Rose #06 It Brown Orange #10 Dry Rose Brown...more close
Online Shop
Shipping charged
5-10 business days for delivery

Installments
COD
Credit Card
Others
Online Shop
Shipping charged
5-10 business days for delivery

Installments
COD
Credit Card
Others
Online Shop
Shipping charged
5-10 business days for delivery

Installments
COD
Credit Card
Others
Online Shop
Shipping charged
5-10 business days for delivery

Installments
COD
Credit Card
Others
Online Shop
Shipping charged
5-10 business days for delivery

Installments
COD
Credit Card
Others
Online Shop
Shipping charged
5-10 business days for delivery

Installments
COD
Credit Card
Others
Online Shop
Shipping charged
5-10 business days for delivery

Installments
COD
Credit Card
Others
Online Shop
Shipping charged
5-10 business days for delivery

Installments
COD
Credit Card
Others
Online Shop
Shipping charged
5-10 business days for delivery

Installments
COD
Credit Card
Others
Online Shop
Shipping charged
5-10 business days for delivery

Installments
COD
Credit Card
Others
Online Shop
Shipping charged
5-10 business days for delivery

Installments
COD
Credit Card
Others
Online Shop
Shipping charged
Items "Sold by ZALORA" and Items "Sold by Third-Part

y Sellers will now have separate delivery days.

...more

close
Online Shop
Shipping charged
Items "Sold by ZALORA" and Items "Sold by Third-Part

y Sellers will now have separate delivery days.

...more

close
Online Shop
Shipping charged
Items "Sold by ZALORA" and Items "Sold by Third-Part

y Sellers will now have separate delivery days.

...more

close
Online Shop
Shipping charged
Items "Sold by ZALORA" and Items "Sold by Third-Part

y Sellers will now have separate delivery days.

...more

close
Online Shop
Shipping charged
Items "Sold by ZALORA" and Items "Sold by Third-Part

y Sellers will now have separate delivery days.

...more

close
Online Shop
Shipping charged
Items "Sold by ZALORA" and Items "Sold by Third-Part

y Sellers will now have separate delivery days.

...more

close
Online Shop
Shipping charged
Items "Sold by ZALORA" and Items "Sold by Third-Part

y Sellers will now have separate delivery days.

...more

close
Online Shop
Shipping charged
Items "Sold by ZALORA" and Items "Sold by Third-Part

y Sellers will now have separate delivery days.

...more

close
Online Shop
Shipping charged
Items "Sold by ZALORA" and Items "Sold by Third-Part

y Sellers will now have separate delivery days.

...more

close
* Prices updated on Jan 21, 2019.
* The prices listed have been converted from USD to PHP based on exchange rates of Jan 18, 2019.
Video of Peripera Ink Airy Velvet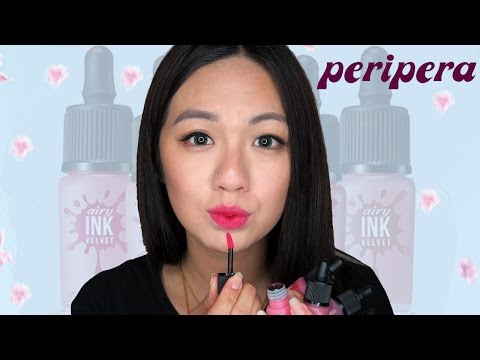 PERIPERA Ink The Airy Velvet [페리페라] 잉크 더 에어리 벨벳 |Full Swatches and Review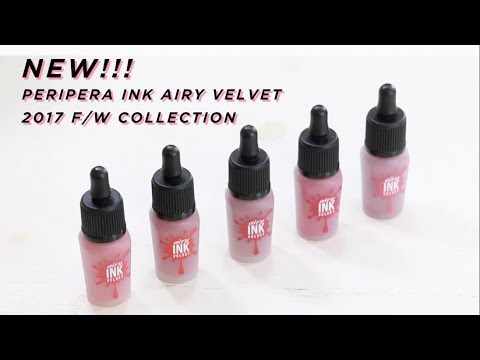 [신상이닷!]
Specs of Peripera Ink Airy Velvet
Basic
Size
8 g
Features
Benefits
Moisturizing , Lightweight
Finish
Gloss , Soft , Velvet
About Peripera Ink Airy Velvet
The Peripera Airy Ink Velvet: The Lightweight Lip Stain of Your Dreams
Did you know that there are many women who absolutely love makeup and yet they can't stand the feeling of lipstick on their lips? Lipsticks contain wax and emollients that allow the pigment to be evenly dispersed on the lips. However, these waxes and emollients can feel uncomfortable because of how they sit on top of the lips. And it's even more annoying when you constantly leave lipstick marks on anything your lips touch – mugs, cups, your boyfriend's cheek, or even your clothes!
Thankfully, lipstick isn't the only way to give your lips a dose of color. There are also lip stains that are gently absorbed into the lips while leaving a wash of color. These stains feel like nothing on the lips, making it perfect for those who hate that "thick" feeling on their lips.
And if there's one lip stain that we absolutely adore because of its lightweight and barely-barely there feel, it's the Peripera Airy Ink Velvet.
The Peripera Airy Ink Velvet
Forget the lipsticks and move on to this moisturizing lip stain. The Peripera Airy Ink Velvet is a mix between a matte liquid lipstick and watery lip stains. It feels like a cream on the lips, but it leaves an intensely pigmented stain that lasts for hours.
The Peripera Airy Ink Velvet gets its name from the fact that it feels like nothing on the lips. It has a moisturizing and smoothing effect as well thanks to the natural oils in its ingredient list. And the thing we love most about this lip stain is that it comes in a variety of different shades to suit different skin tones and preferences.
Our Favorite Shades of the Peripera Airy Ink Velvet
Peripera Airy Ink Velvet No. 2 Pretty Orange Pink
Coral and orange shades are a huge trend in K-beauty. That's why we think you'll absolutely love this shade! It just gives your lips an intensely bright coral pop of color that can instantly make your makeup look appear more vibrant.
Peripera Airy Ink Velvet No. 3 Sold Out Red
No lip stain collection will be complete without a signature red shade. This cool-toned red gives your lips a bright red stain that lasts all day. Wear it with some light pink blush and a tiny bit of highlight to really make your lips stand out.
Peripera Airy Ink Velvet No. 4 Elf Light Rose
No doubt the favorite among all the shades of this collection, Elf Light Rose is a dusky pink shade that's akin to a "my lips but better" hue. It's so effortlessly natural, which is why we think this would make for the perfect lip color for a natural makeup look.
Peripera Airy Ink Velvet No. 6 It Brown Orange
If you don't want your lips to look way too bright, opt for this muted brownish-orange shade. So to all you morenas who are intimidated by bright orange lip stains, this deep orange shade is just bright enough to stand out but is also deep enough to blend in with your complexion.
Peripera Airy Ink Velvet in No. 9 Legend Brown Red
This subdued red shade gives you that pop of red in your makeup without standing out too much. We think it's the perfect red shade for an everyday daytime or professional makeup look.
The Peripera Airy Ink Velvet lip stain comes in more shades that you must check out at the online shop!
Reviews of Peripera Ink Airy Velvet
Great lipstick
Hindi ko ini-expect ang magiging finish nito sa lips ko na may talagang malambot at makinis na feeling at ...Read more
Rating :

5.0

Date : Feb 21, 2018
Review by Ellise Sam
Forum of Peripera Ink Airy Velvet