OPPO R11s review : High cost performance smartphone with excellent camera features
OPPO R11s review : High cost performance smartphone with excellent camera features
The OPPO R11s has middle class performance, and yet it has a 18:9 6.01-inch OEL display, main camera with dual lenses and the front camera with AI; it is as good as high-end model phones in terms of specification. We will take a look at the R11s here.
OPPO is a Chinese smartphone manufacturer which has developed quickly; it now has the world's 4th, and Asia's 1st share. In this article, we are going to try the R11s and review its operability.
It follows the current trend such as a 18:9 vertically long OEL and narrow bezel.
Let's have a look at the design of the R11s. I tried the red model. Its pinkish bright red body is noticeable, and has high-impact. It is 155.1 x 75.5 x 7.1 (WDH mm) and weighs 153 g. When I had it in my hand, it felt very thin.
The metallic rear panel and 2.5D glass makes a smooth curve and is stylish and has a high-end feel to it. Along with these, it has a 6.01-inch OEL display (2160 x 1080) and narrow OEL, which looks as good as high-end smartphones.
The most distinctive feature is the high performance camera that makes this a "camera phone."
One of the best features of OPPO smartphones is the high performance camera; they even call it "camera phone." The R11s also emphasizes its camera function. The main camera has 20 MP and 16 MP image sensors with F1.7 lens. What is different with other smartphones is that it automatically changes the sensor according to the brightness.
When it is bright enough in midday, it uses the 16 MP sensor. It uses the 20 MP sensor in dark environment. The 20 MP sensor increases the light receiving surface 4 times bigger, which enables taking bright photos with little noise even at night time or dark indoors. Also, with F1.7 lens and software processing, you can take bright portraits with bokeh effect in dark environment. However, the change in the camera is not done manually but automatically.
I took photos with the R11s's main camera to see its performance. It can take highly defined photos that show details of objects in bright day time. Also, because it has HDR function, it can take photos that show clear difference of bright and dark. It is very easy to take photos with this as I can take photos with its initial auto mode without worrying about settings. Portrait mode makes boke effect with software, so it was not that good with details like hair, but it was not that bad.
It takes beautiful photos in daytime. I tried it at night time, too. If it was just dim with lights at restaurants, it took bright photos with details. It does show noise, but it is not too bad. Bokeh effect can cover the person on the photo with portrait mode at night time, and it was difficult to take portrait photos as good as daytime.
The R11s has a good front camera, too. It has a 20 MP sensor and F2.0 lens. Also, it has AI which has learned an enormous amount of selfies, which can adjust the photos according to each user with AI beauty mode. This would be a great feature for those who take selfies often.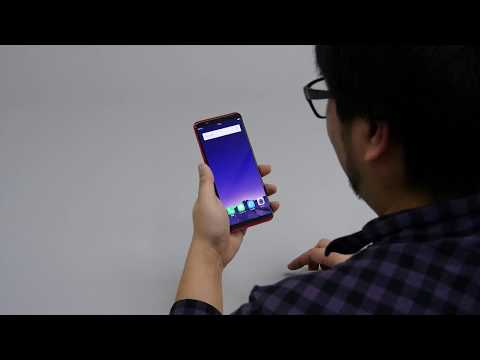 It can even handle games The UI looks like that of an iPhone, though it is an Android phone.
Lastly, we are looking at the specifications of the R11s. The R11s's CPU is the middle range Snapdragon 660, 4 GB RAM and 64 GB ROM (the maximum 256 GB with micro SD) and the battery is 3205 mAh. With AnTuTu Benchmark (v7.04), it scored 136273. I cannot compare it with models with the same CPU as the AnTuTu Benchmark had a major update, but it seems reasonable as a model with the Snapdragon 660. Meanwhile, it scored 25056 with the 3DMark test Ice Storm Unlimited, which tests the performance of 3D graphic. When you play 3D games, you would want at least 20000. This means the R11s can handle heavy 3D games.
The R11s has an OS called the ColorOS 3.2, which was developed originally by OPPO based on Android 7.1. The design is quite risky; it looks just like Apple's iOS. When you swipe the display from top to bottom, it shows notification, and it shows the setting menu swiping from bottom to top. The design of the setting and camera UI are like that of the iPhone.
Though it is an Android device, I , an Android user, sometimes got muddled. It may be OK once you get used to it, but probably not everyone is a fan of this. iPhone users who are changing to Android phones might be OK with this. Though it looks like iOS, it doesn't mean you cannot use apps for Android. Like other models, you can download apps from Google Play, so don't worry about that.
Overall performance is excellent! Great cost performance with features as good as high-end models.
The R11s has an excellent camera function. I totally understand why it is called a camera phone. Anyone can take high quality photos easily, and you can take photos so good that you can show off on your SNS with portrait mode that supports nigh time photo and the correction function of AI.
The 6.01-inch OEL display with narrow bezel and facial recognition are the features that you can see with high-end smartphones. If you don't mind the OS being similar to the iOS, I recommend you try this out.