Nokia 9 Cases show it'll be the size of a Nokia 3
Although Nokia isn't the powerhouse brand it used to be, a lot of people are still excited to see what HMD Global is going to do with the upcoming Nokia 9 flagship. Previous reports have shown leaked images of the back cover, giving us tantalizing clues as to what the upcoming smartphone will look like. The latest leak now reveals a set of phone cases that have already been made by companies who have gotten the specifications ahead of time. The covers tell us an interesting story.
The two cases, a clear transparent case, and a cobalt blue soft case have cutouts that match perfectly with the earlier leaks of the Nokia 9's back plate. There's a dual-camera cut outlined vertically up the middle, a fingerprint-scanner cut out beneath it, and two circles flanking it for the LED flash and a microphone hole.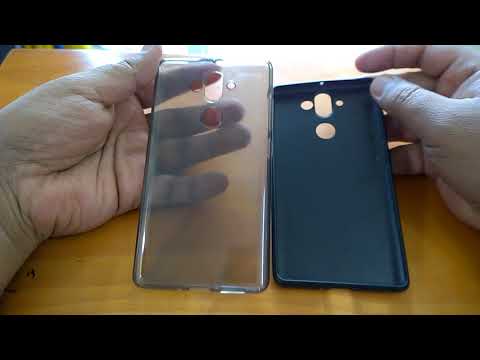 The cases are smaller than you'd expect. They're much smaller than the dimensions of the Nokia 8, Nokia's current flagship smartphone. The Nokia 8 measures 151.5 x 73.7 x 7.9mm, and it's too big to fit into the case. The only phone that fit snugly in was the Nokia 3, which is 143.4 x 71.4 x 8.5mm in girth. This suggests that the phone will have a more compact design.
Rumors have indicated that the Nokia 9 will basically be a Nokia 8 with an enlarged 18:9 aspect ratio display covering the front of the device. The new cases don't have the cut along the sides to accommodate an Infinity-style curved edge display like we see in Samsung's flagship phones, and many expected the Nokia 9 would have that kind of screen design. It's still up in the air, though, and the cases shown could still conceivably fit on a phone with a big FullView display with curved glass edges.
A recent FCC certification listing shows that the Nokia 9 will have a 5.5-inch OLED display from LG, a Qualcomm Snapdragon 835 processor, 128GB of internal storage, a 3,250mAh battery, a dual-camera setup on the rear with 13-megapixel and 12-megapixel cameras, and a 5-megapixel front camera. The phone is expected to hit the market in early 2018, likely in January before the Mobile World Congress in Barcelona.