Classic Nokia 5310 Revived, with Dual Front-Facing Speakers
HMD Global is obviously expanding its portfolio and services as it recently announced four new phones and its new data roaming service HMD Connect. What's interesting is that in spite of the huge number of smartphones with advanced features out there, HMD still chooses to offer classic Nokia feature phones which it classifies under the Originals lineup. And the latest of the Originals to be introduced is the Nokia 5310, a re-imagined version of the 2007 Nokia 5310 XpressMusic that was already discontinued years back.
Get the best deal here!
Nokia 5310 XpressMusic

P715.07
Reference price
Although the term "XpressMusic" is no longer attached to the handset's name, the Nokia 5310 still leverages its MP3 player and FM radio features, with audio experience further boosted by two powerful front-facing speakers.
The new 2020 Nokia 5310 combines classic and modern looks and feels such that it will be appealing to both young and older users alike.
About the Nokia 5310
Display
The 2020 Nokia 5310 has retained most of the features of the XpressMusic version including the 240p x 320p thin-film-transistor (TFT) liquid-crystal display. It is bigger by 0.3 inches than the previous iteration. However, it has a smaller screen-to-body ratio of 27.5% and a lower pixel density at 167ppi.
Camera
The Nokia 5310 is a Series 30+ feature phone, so it isn't expected to have good camera support. It sports a VGA camera with an LED flash, seemingly a downgrade from the 2MP of the XpressMusic model. VGA is usually equivalent to 640 pixels wide by 480 pixels tall, or 0.3MP. It isn't clear yet from the reports if video is supported, but its previous iteration supported QCIF video.
Processor, Memory and Storage
One cool upgrade to this classic handset is the inclusion of a MediaTek MT6260A processor, which is known to be a powerful single-chip solution work with high-end GSM, GPRS, and EDGE-Rx capability. Based on the 32-bit architecture and TM RISC processor, it definitely gives the Nokia 5310 a performance boost. This, along with an 8MB RAM makes this blast-from-the-past handset a formidable feature phone. Internal storage however is small at 16MB, although it is expandable to 32GB via a dedicated memory card (microSD) slot.
Battery
The Nokia 5310 is powered by a removable 1,200mAh Li-Ion battery, which is 340mAh larger than the Nokia 5310 XpressMusic that it is replacing. Reports have it that on a single charge, the battery can support talk time up to 7.5 hours and in idle mode can last for up to 22 days in single-SIM mode or up to 30 days in dual-SIM mode.
Body
Most probably to keep the classic vibe, the handset retains the black-red and white-red color variants of the XpressMusic. It is 4.87 inches long, 2.06 inches wide and 0.52 inches thick. It weighs 88.2g. Below the TFT display is an alphanumeric keypad, and there are side-mounted keys that serve as control buttons for the music player. It has a 3.5mm audio jack and has front-facing dual speakers for an immersive music and audio experience.
Network and Connectivity
This revived Nokia classic supports GSM. Its processor allows Bluetooth 3.0 functionality which is a good alternative to wired earphones. It can be connected to another device or to its charger via a Micro USB 1.1 cable.
Lastly, the device comes with an FM radio receiver which is a good alternative to internally storing music files (which takes up a lot of space).
Key Specs
Nokia 5310 Key Specifications
| | |
| --- | --- |
| Display Size | 2.4 inches |
| Display Resolution | QVGA 240 x 320 pixels |
| OS ver | Series 30+ |
| CPU | Mediatek MT6260A |
| Storage | Less than 0.5GB |
| External Storage | microSD, up to 32GB |
| RAM | Less than 0.5GB |
| Main Camera | 0.3MP (VGA) |
| Battery | Removable, 1,200mAh |
| Dimensions | 123.7 x 52.4 x 13.1 mm |
| Weight | 88.2 g |
| Color | Black/Red, White/Red |
Pros & Cons
Pros
A feature phone with a single-chip solution
Has a long-lasting battery life for a feature phone
Has Bluetooth support
Dual speakers
MP3-playing features
Cons
Feature phones do not appeal to everyone
Low camera resolution
Small internal storage at 16MB
Pricing and Release Date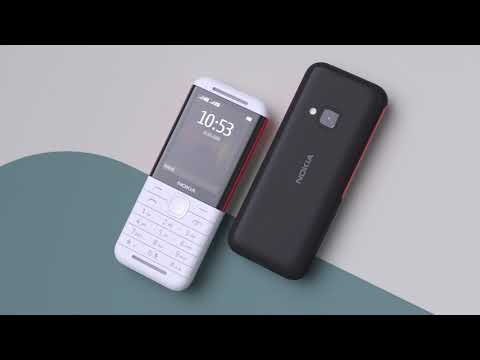 The target date for the release of the 2020 Nokia 5310 feature phone is in April this year, with a global price of EUR 39 (around PHP 2,150). Like the Nokia 5.3, the Nokia 5310 is already listed on Nokia India's webpage and will likely be available in South Asian countries soon.
For now, stay tuned to official updates from Nokia Philippines as regards to the classic phone's arrival in the local market.