Child named "Pajero Sport" by Motorhead Dad in Indonesia
Child named "Pajero Sport" by Motorhead Dad in Indonesia
In a surprising twist of fate, a child who was named Pajero Sport gets a surprise visit from Mitsubishi.
We've heard of children being named after great people, or outstanding ideals like Hope, Charity, or Joy. But have you ever heard of a baby being named after a great SUV? Because that's what happened in Indonesia back in April. Meet little baby Pajero Sport.
An Indonesia couple enamored with the Japanese car brand recently gave birth to a bouncing baby boy last April 26, and in honor of the Mitsubishi's top-selling SUV the Pajero Sport (called Montero Sport in the Philippines), the couple named him "Pajero Sport." The child's birth certificate made the rounds on social media and became a viral sensation.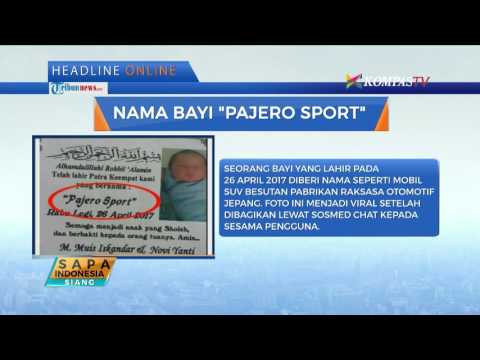 The story sounds too ridiculous to be true, but Mitsubishi actually caught wind of the story and set about tracking down the elusive little Sport. Mitsubishi Motors announced on its social media that they were looking for any information on the baby.
"Anyone who knows or has the contact numbers of the family who named their baby Pajero Sport, please contact us. We would like to meet up and thank them for choosing the name." They were finally able to locate the baby and his parents, found in Pamulang, South Tangerang. Mitsubishi's head of PR Intan Vidiasari came to convey their appreciation to the family for choosing such an auspicious name, the aftermath of which led to a tremendous amount of free positive publicity for Mitsubishi.
As thanks, Intan gave the couple a token of their appreciation. Not quite a brand new Mitsubishi Pajero Sport, but a whole bevy of much-needed baby supplies, a most welcome gift as any parent can attest. Intan also drove over in a Pajero Sport so that the family could get more acquainted with their favorite car. The baby's father, Pak Muis, was admittedly a huge fan of the Pajero Sport. According to Muis, he gave the name to his son in spite of opposition from his family and friends. He did not intend for the post to go viral, but it happened to go that way regardless.
"People posted on Facebook for fun, it turned out to cause a lot of excitement. There was no intention to cause a sensation, none at all. We just happen to be fans of the Pajero Sport SUV so we decided to give that name. I hope he can be tough like the Pajero Sport, so he can be placed anywhere. And I hope he becomes a devout son, dedicated to his parents," Muis said in a statement.