Kawasaki Z H2 Confirmed to Enter the Philippine Market Soon
Kawasaki Z H2 Confirmed to Enter the Philippine Market Soon
The city commute-friendly naked superbike Kawasaki Z H2, from Kawasaki's green Ninja clan, is coming to the Philippines sometime in Q1 to early Q2 2020.
Good news to all big bike enthusiasts! The all-new Kawasaki Z H2 supercharged naked bike that was recently unwrapped at the Tokyo Motor Show barely two months ago is reportedly coming to the Philippines soon.
In a recent discussion by Motopinas with Kawasaki Motors Philippines representative Henry Raquedan, it was revealed that among the lineup of Kawasaki motorcycles entering the country in 2020 is the Kawasaki Z H2. Motopinas quoted Raquedan as saying the new motorbike will arrive in 3 to 4 months although there are no pricing details available at the moment.
The Z H2 is the Japanese brand's latest entry to the naked bike segment as indicated by the addition of the letter Z in its name. Last year, the naked bike Kawasaki Z400 ABS, which is based on the Ninja 400 ABS, was also released, but the Z H2 is officially the flagship of the Z family. This sporty but stylish-looking superbike has the DNA of the supercharged super-sportbike Kawasaki Ninja H2 and the track superbike Ninja H2R, inheriting their cutting-edge technology and engineering but with a little less power.
For the uninitiated, a naked bike is typically a toned-down version of a sportbike as it is intended for city commuting. So, although the Z H2 shares the same 998cc inline-4 DOHC engine as the H2 and the H2R, it has around 37% less power than the 310hp-capable H2 and 40% less than the 326hp H2R. The all-new H2 is reportedly capable of max power at 197hp (200PS) and peak torque of 137Nm, which is identical to that of the sport touring bike Kawasaki H2 SX. These powertrain metrics are just right for a naked bike, which is supposed to balance speed with comfort and practicality. Besides, it is still the fastest among the currently existing naked bikes out there.
The powerful yet manageable motorcycle doesn't stray away from the design of its H2 clan, but the sparser green trims give it a stylish appeal. It is reportedly made of high-tensile steel that enables light handling and smooth cornering. It also comes with Brembo M4.32 mono-block calipers that bite on 290mm discs in front complemented by a 226mm disc at the rear. It is equipped with the Kawasaki Intelligent anti-lock Brake System (KIBS) to ensure safety and has a load of advanced driver aids such as driving modes that allow the rider to choose from Road or Rain mode, Rider mode at 98hp, or the high-speed Sport mode at 197hp.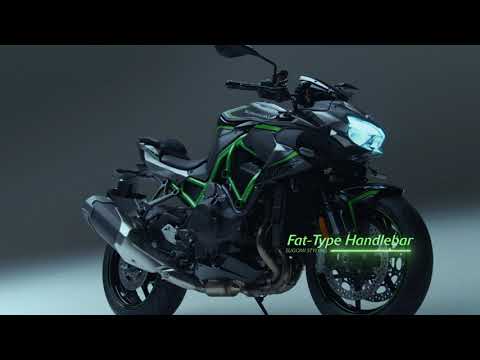 It looks like Kawasaki is in for the win in the local naked bike market, so stay tuned as surely more information on the Z H2 will likely surface as its arrival nears.