2020 Isuzu D-MAX Receives Its First Preview, Key Design Features Revealed
2020 Isuzu D-MAX Receives Its First Preview, Key Design Features Revealed
The next-generation D-MAX is set to get a much tougher exterior styling, a new teaser has revealed.
Ahead of its imminent worldwide launch in October, the next-generation Isuzu D-MAX has finally received its first preview.
Isuzu has just dropped a video teaser for the 2020 Isuzu D-MAX. The teaser serves as the vehicle's very first official look since it was teased in the wild weeks ago. The short clip revealed that the pickup is set to sport a much bolder and more prominent front end. Its headlights are also shown to be slimmer than the previous generations, with its LED daytime running lights appearing to be taken straight from the current Audis.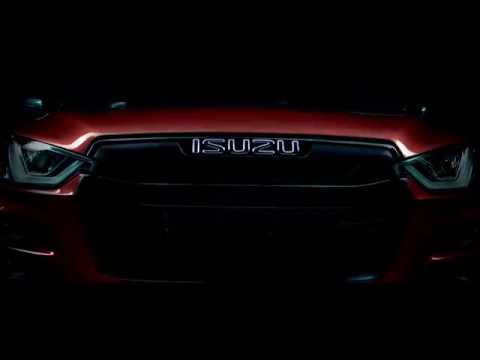 One of the key highlights of the video teaser relative to its design cues can be found in its grille. It now looks massive and mainly stretches to the truck's front, all the way from the edge of its hood, right down to its bottom. Another interesting revelation in the clip is the 2020 Isuzu D-MAX's fog light and turn signal housings.
Despite the short video teaser, the clip also managed to get us a glimpse of what's inside the 2020 Isuzu D-MAX. The teaser shows that the upcoming entrant will sport an entirely different center stack, with air-conditioning vents flanking the infotainment screen. A brief appearance of the Apple CarPlay feature is also largely noted in the video.
Another takeaway from the video teaser is the presence of the gear selector for the 2020 Isuzu D-MAX's automatic variant. In terms of design, it appears to be exuding a more upmarket appeal, thanks to its gloss-finished top part, right alongside its leather shift boot. There's also a noted change that can be gleaned from its climate control. The toggle switches to navigate its air-conditioning also appear to be replacing its traditional circular design.
Isuzu is currently tight-lipped about the upcoming engine of the all-new Isuzu D-MAX. But if the video teaser is anything to go by, then we might be looking at a new mill fueling the forthcoming pickup.
Apart from the aforementioned design features, the 2020 Isuzu D-MAX is expected to introduce a slew of new technologies. These include the semi-autonomous emergency braking and a revamped Apple CarPlay and Android Auto-compatible infotainment system.
Isuzu Thailand, which posted the 2020 Isuzu D-MAX's official video teaser, hasn't released any other detail on the imminent pickup.
The third-generation 2020 Isuzu D-MAX is scheduled to debut in Thailand on October 11. Isuzu Thailand's Facebook page will also broadcast the event via Facebook live.