Here's the First Rendering of the New Hyundai Santa Fe
Here's the First Rendering of the New Hyundai Santa Fe
The 2021 Hyundai Santa Fe could share a lot with the current Kia Sorento, but its aesthetics might not be one of them.
Recently, Hyundai was gracious enough to let us catch a glimpse of the new face of the Hyundai Santa Fe, and unanimously everyone is liking where the Korean automaker is heading. For instance, its more massive grille and split headlamp design culminate in the series' most assertive take yet.
As first glimpses usually go, however, the onlookers were only left with more questions. As it is, not much has been dawned upon the lineup's eager fans in terms of its other key design features and specifications.
Thankfully, a dangerously accurate rendering from AtchaCars was gifted to us, filling in the puzzling sections of the previous teaser.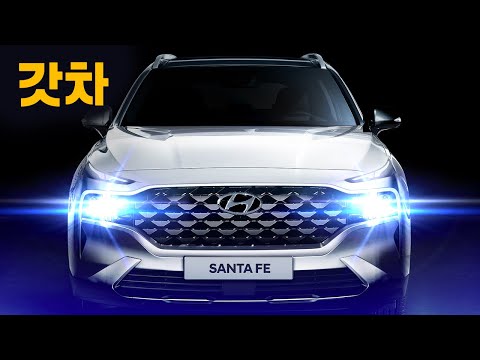 The look of the 2021 Hyundai Santa Fe is more straightforward than the current generation. Note, though, that there were modifications that differ ever so prominently from Hyundai's teaser image.
For one, the rendering has provided an alloy-look that surrounds its grille, which is a bit too excessive for many. In contrast, the teaser image impressed upon a body-color grille surround. The grille surround also seems to be complementing the primary paint color, especially in some of the renderings in the silver/grey samples. Still, the T-shaped LED DRLs are very much retained.
The visual artists behind the latest rendering of the 2021 Hyundai Santa Fe also expressed the upcoming vehicle in bold colors such as green, orange, and purple. If these paint jobs ever pan out, then it would be a dream for those who'd like to take things further.
Meanwhile, the rear design of the 2021 Hyundai Santa Fe is still as elusive as mysterious. And not that any of those heavily-camouflaged models roaming recently could ever satisfy some of its fans' curiosity.
The 2021 Hyundai Santa Fe has also already been tipped to be offered in hybrid and plug-in hybrid powertrains. Also, a 2.5-liter turbocharged four-cylinder engine is expected, with an output figure of 290 HP. The rest of its specifications are said to be shared with the 2021 Kia Sorento.
The 2021 Hyundai Santa Fe is rumored to arrive in Europe in September. Its launch in the Philippines, alongside its pricing, is still unknown at the time of this writing. But a few are adamant that it could be unveiled locally in the middle of 2021.