Honda

Monkey

for sale in the Philippines May 2021
| | |
| --- | --- |
| Model | Monkey |
| Displacement(cc) | 109.00 |
| Available Color | |
| Transmission | 4-speed |
| Starter | Kick |
| km Per Liter | - |
| Fuel Tank Capacity(L) | 100.0 |
| Weight(kg) | 68.0 |
| L*W*H(mm) | 1,365 x 600 x 850 |
| Type | Mini |
| Offical Price | |
Honda Monkey Z50 J1
NCR - Metro Manila
May 11, 2021
Honda Monkey 50th anniversary
NCR - Metro Manila
Mar 24, 2021
Honda monkey 50th anniversary
Jan 26, 2021
Honda
NCR - Metro Manila
Jun 17, 2020
2017 Honda Monkey
CALABARZON - Quezon
Feb 6, 2018
Go to Shop
2017 Honda Monkey
CALABARZON - Quezon
Feb 6, 2018
Go to Shop
* Prices updated on May 11, 2021.
* The prices listed have been converted from USD to PHP based on exchange rates of May 11, 2021.
Video of Honda Monkey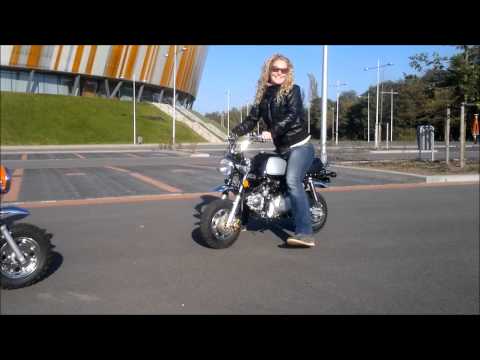 Honda Monkey and Gorilla promo.wmv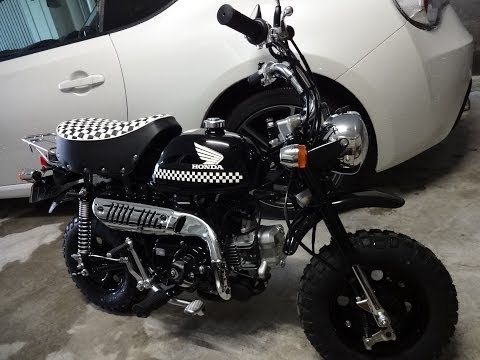 HONDA MONKEY LIMITED EDITION 2014 ホンダ モンキー リミテッドエディション 2014 納車
Honda Monkey Motorcycle Accessories & Parts
Latest News of Honda Monkey
Swing on the road and go bananas with the return of the Honda Monkey miniMOTO bike. read more
About Honda Monkey
The Stylish Minibike Honda Monkey
The Honda Monkey is a small 125cc motorcycle with a unique design and controls that are fairly idiot-proof. Probably it is the most entertaining and easiest entry into the two-wheel world. Simply stated, it's a legend's return-a newly rebooted 2018 Honda Monkey motor. In 1967, Honda created the very first Monkey Bike and the current iteration carries on the original's theme. The chassis and motor come from the MSX125 from Honda, which also donates its tires, brakes, and front suspension, indicating that the new Honda Monkey Bike is now powered by a 125cc four-stroke engine.
It's quick to ignore the latest Monkey bike as a toy because of its scale. Yet this is not it. It's just a little, simple motorbike. Riding and a real time-saver in town is massively fun, as well as a great introduction for people who want to learn how to get on two wheels, especially when you are on the small side of the human continuum.
With its adorable design, folding handlebars, chrome tank with a distinctive look, and firmly mounted wheels of five inches in diameter, it has able to draw the attention of evergreen adults. So much that in 1963 a toad-going prototype had been produced and sold to Europe and America. It continued to develop and grow both culturally and physically over the following decade. By 1969 wheels of the bike had grown to 8 inches, and it gained fast-detached forks in 1970, which meant it could easily fit into a small car's boot, making it a great tender hor people wanting to touch around the town.
Back in the 1970s, the Monkey bike was a diddy bicycle that whipped up palpitations of desire in nearly any flare-wearer deserving of their hippy bath salts, particularly those who appreciated smart, simple design and perfect proportions. While in the Seventies, Monkey mayhem reached fever pitch, the earliest bikes date back to 1961 when a Tokyo theme park needed some tiddly bikes for kids to move around on. Honda initiated to build a little 49cc two-wheeler and successfully introduced the world with the amazing Honda Monkey.
The Honda Monkey has a centrifugal clutch with it's 3-speed gearbox allows you a smooth ride every time. At the and of seventies – where you had chunky tires, fuel tank re-styled like a teardrop, a large, squashy seat and mini 'ape' inspired handlebars – they were all biffing around from The Beatles of Michael Jackson.
There have been lots of Honda Monkey variants since 1961 including some of the special editions along the way yet it has never lost its charm. An MSX125 engine, LED lights, LCD instruments and color-matched twin shocks. It has introduced in three colors variant in 2018.
For £3,699 the new Monkey could be yours. That's just £310 expensive more than his teenage Honda MSX125 counterpart, the works and out on PCP a £536.53 with a deposit at around £65 a month. Since this latest Monkey's price has been revealed it has attracted a lot of social media criticism. Users equate that to the original price which makes little This sense. the bike is not a gimmick or toy anymore. This is a day modern, and this completely working motorcycle is fitted with all the innovations. This bike also has right the to become the most mini-bike expensive out there. This is the original, legislative one. This is a bike that began everything. Not only are you purchasing mini another -bike, but you can also own an emblem and the reputation that comes with it.
The Honda Monkey Makes You Smile
It is a machine built for urban life, which it reveals by having a severely overcrowded Stratford work gently. But you can ride it in the motorway too, obviously. The Monkey is great in town and you love the ultra-light clutch and feather-light gearbox, which with no effort switches the ratios. It's so small physically that you rarely come across a gap that it can't fit through and the soft suspension dispatches potholes with ease.
With a glance straight from the 1969 Honda Mini Trail 50, one could be justified for discarding the diminutive motorcycle as a sentimental exercise. The Honda Monkey is indeed a truly powerful compact motorcycle, though it is just that. The Monkey's maximum speed takes it off the freeways, driven by a horizontal, air-cooled, two-valve engine, but with EFI. That's good, but the 12-inch tires aren't willing to navigate high-speed.
The Monkey then resembles its namesake — it is nimble and creates countless smiles. Together with the high profile of the Vee Rubber tires, four inches of nonadjustable suspension movement provides the driver some safety from the frequent jolts of city streets. The only thing that might allow a fresh right ride onboard is the four-speed, entirely manual transmission.
Key in, turn it on and the LCD dash of the Honda Monkey Bike explodes into existence and sends you a cheeky little (not really) smile. Push the button on the start and nothing happens. When something occurs – everything begins as usual – you'd be justified for believing it's wrong, it's just too darn silent. Then simply click in the gear and set off on one of the most grin-inducing rides you can imagine.
The Honda Monkey delivers 9.25bhp Powered from its 125cc air-cooled engine, you'd think Deliveroo riders couldn't even use it, as a large Indian takeaway hanging from the back would bog it down altogether. Yet this is incredibly nippy, weighing just 107kg. This also has a 4-speed box (compared with the initial 3-speed) and the centrifugal auto-clutch is binned in place of a conventional left-hand clutch lever. Yet being such a compact, FI engine and being incredibly thin, it's also an efficiency power that produces a whopping 189mpg reported, ensuring you'd drive over 230 miles through the Honda Monkey has a tiny 5.6-liter tank.
Easy Control with the Honda Monkey
All the main parts look like they've been designed with an additional 30 percent smoothness to make it more uber-appealing for inexpert users. You can easily pull the clutch by using very little force, and shifting through the gears only needs a little push in either direction of your foot. The high-performance suspension can handle a lot and these fat 12-inch little V-Rubber tires and wide cushioned seats ensure you can tackle it through the potholes and taking speed bumps without fearing you'll be jettisoned off the handlebars.
The engine of the bike has a sewing machine's similar gentle thrum and it is so low and silent that you might often overlook it's still going, and you can clench your hands around the teardrop tank to see if it's ticking away. It is proven that when the bike is running in slower than 10bhp is it often good enough to see anything away that your light can't cover and at a stunning speed of 40mph it will light you up. What, let's face it, is everything in town that you need.
You sound a little mischievous riding this bike and, oddly enough, a little invincible too – like a video game. I guess it's that you have fewer cc, weight, and height to care about when you climb on a mini-bike and confidence that you have greater space for error-but that is also where things will go horribly wrong. The Monkey Bike, thankfully, has some clever tech to back up some overzealous biking. It has single front and back hydraulic discs with a front-facing anti-lock braking system based on the IMU. This meant that you can grab a handful of brake on the few occasions that you do not get that uncomfortable front end dive, a feature that could prove invaluable under wet or trickier conditions.
The tiny air-cooled engine has ample poke to make it exciting and is getting forward very easily as it weights zero. However, it has only four gears, so it seems to run out of puff at around 55 mph, but that's more than enough for inner-city riding. Although that's good to drive in the streaming stream, overtaking is pretty much ruled out. This accelerates quickly so you can push cars to roundabouts so up to around 40 mph, but then 50mph lorries need a really long straight path to ride through. The throttle of the Honda Monkey is also delightfully quiet, with no sign of scratchiness at small throttle openings-quite remarkable on a classic polar bear fuel-friendly injected vehicle. This is also relatively vibe-free even when it moves at tick over.
Yet the compact 125cc motor of the Monkey rendered the trip even less agro-friendly, it clearly doesn't churn out crazy temperatures like bigger bikes and heat shield the exhaust on the did a nice of a job not frying me all In a day. fact, when you're riding barely, you notice that it is to your so close inner thigh.
Honda taken has a great interest in styling this bike's exhaust. A lovely feel is maintained and the retro way downpipes are interwoven is wonderful. My only concern is that is quite they exposed, so any off-road you have aspirations for it may be limited.
The Monkey a 4-speed has gearbox so you never need to switch off out the first couple gears of on the trip through the area, given its engine capacity. It isn't because of moving the slow- cars, further due to the motor of Honda. First gear is more than able to pull you through and out of tall enough traffic and to mean constantly feeding your gears whenever you pull away.
The Honda Monkey Provides an Eye-catchy Look
A little flabby relative to the original in spots, but it bears its appeal in the same way as the current Fiat 500 does. It does have a swing skinny arm, frame made of steel, and appears to be wearing the classic Honda logo, but it has been hit with the advanced stick since you can get surprising comforts and tech for electronic creatures.
There is an LCD light, complete LED lighting inside, and IMU-based ABS to avoid rear-wheel rise, plus the smallest USD forks in the world. So everything that seems like the rubber is rubber and it feels good to the eye.
Riding the Monkey bike is probably as easy as riding a geared bike can be. Even if you're over six-foot-tall, the controls are simple to operate with a seat height of 30 inches and you don't feel like you're just crouched like the original on top of it.
In an urban environment, the Monkey is an assassin of utter quality. Due to its amusing size and short shoulders, it will slash commuting times in half. With a large smile on the rider face, you can mischievously sieve through traffic as it gets through gaps other bikes couldn't or wouldn't dream of. Then if you ever get stuck, you can easily pick up one end of it and approach it anywhere you need to.
Old fashioned extra-large seat, high-profile tires, and double rear shocks function together to make it such a comfortable journey. I guess it's also the riding posture that exaggerates such comfort features really. The bike leaves its riders at the end of the day without even a slight bit of niggles or pain, even after rides of hours.
The speed bike of this makes darting on across traffic an utter fantasy. With bigger motorcycles, you to have been oblivious with the back of the bicycle trailing you across a distance so you don't even owe second this a thought with the small wheelbase on the Monkey. The back of the motorbike follows the front wheel after a split second and you can plan for the next overtaking already.
Given the advantages of their scale, there's a myth about bikes mini-b that criminals would only pick up them, bring them pockets in there, and with the runoff. The truth is, they can, but then any other bike will do it too. If a thief wants it, it is likely they will get it. However, the Monkey bike is not as light as it may seem. It weighs in at 107 kg and it's more likely you will fail miserably when you try to pick the bike up. When you sensibly lock it up, there is no possible explanation that we should see a rise in burglary incidence for this bike relative to other bikes. Besides this, Honda has added a standard alarm to the bike to deter any buffoons trying to nick them.
Pros and Cons
Pros
Classic styling and charm
This bike gets attention which gives both the riders and watchers a big smile
A well-equipped bike
Cool startup animation on the dash
Very efficient engine
Agile urban runabout
Retro Honda logo on the tank is attractive
Cons
Exposed downpipes might limit heading off-road
A bit expensive compared to its small dimensions
Polarizing styling
Reviews of Honda Monkey
User Review :

3

Reviews
| | |
| --- | --- |
| design | 4.3 |
| engine performance | 4.3 |
| travelling performance | 4.3 |
| ride quality | 4.3 |
| fuel efficiency | 4.3 |
| Total | 4.3 |
Honda Monkey
Ang regalo lang naman ni mama sa akin ay ang motor na ito ang ganda nito ang unique ng style pag nag drive ako sa ...Read more
Rating :

4.0

Date : May 19, 2017
Review by aries satorre
Honda Monkey
This very cute motorbike fits for me when im going to work or going to mall or having good ride with my friend ...Read more
Rating :

4.0

Date : Jan 26, 2017
Review by tcArUnGaN
Honda Monkey
Ang cute cute nga naman nitong Honda Monkey ko na motorcycle ang liit nga naman kasi kaya gusto ko ito kasi nga ...Read more
Rating :

5.0

Date : Jul 27, 2016
Review by Lemuel A.
Motorcycle Accessories & Parts