Here's the 2019 Honda Civic Arriving in our Market
Here's the 2019 Honda Civic Arriving in our Market
Civic is one of Honda's wildly popular automobiles. Packing a powerful engine plus a suite of other feature, the new Civic promises to retain the same features that everyone has grown to love but at the same time introduce new functionality that makes driving an even more pleasant experience.
Since it first came out in the Philippines, the Honda Civic has been one of the most popular cars in the market. It's reasonable price tag plus its powerful specs have always been the appealing factor for car enthusiasts on the look out for a new car.
The Japanese car giant has just recently given the press a preview of the latest Honda Civic that's been tuned for the ASEAN market during an event recently held in Thailand. The upcoming 10th-generation Civic boasts of a new design plus enhanced safety features that promise an even better driving experience.
The new Civic also boasts a new colorway: Brilliant Sporty Blue Metallic and will be available as a regular option for new owners. The new 2019 Civic sports a new front bumper, plus the RS Turbo variant received a few aesthetic upgrades with a shiny new black grill and the RS badge. The wheels also received an upgrade as well, getting new 17-inch rims that's made from alloy.
The head unit of the 2019 Civic features a physical knob for volume control for a better intuitive experience and has a 7-inch display panel. The RS Turbo for the Thai market will reportedly get a wood trim in its exteriors, giving it a richer look. It's not immediately clear whether it will be offered in the Philippines.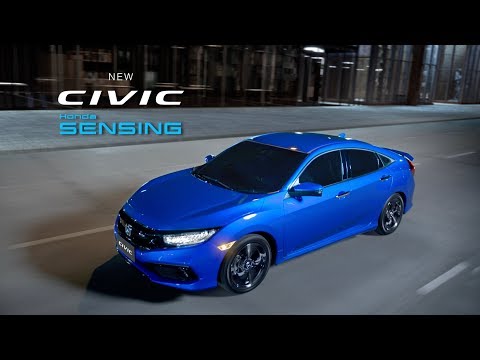 Honda Sensing is a new feature of the 2019 Civic and has a number of functions that make driving a safer experience. Smart braking, better cruise control that is capable even in low speeds, assistance in maintaining the lane, warning features when leaving your lane, alerts when leaving the road, and automatic high beam feature are all part of the Honda Sensing suite.
The Civic retains the same engine variants: the 1.8-liter SOHC 4-cylinder engine and the 1.5-liter turbocharged VTEC TURBO, both of which are eco-friendly thanks to the Earth Dreams CVT feature.
The 2019 Honda Civic will have a January 2019 launch date in Thailand, so it's safe to presume that we should be seeing the new Civic on Philippine streets sometime in the 1st or 2nd quarter of 2019.