HUAWEI Mate 10 Pro subjected to the Torture Test, will it survive?
There is a gold standard when it comes to smartphone stress testing, and that's the JerryRigEverything Durability Test. This famous YouTube channel has built a reputation for subjecting the best smartphones in the world to horrendous torture, all to see how well they hold up in actual use. The latest victim of this test is the HUAWEI Mate 10 Pro, so let's see how well the device holds out.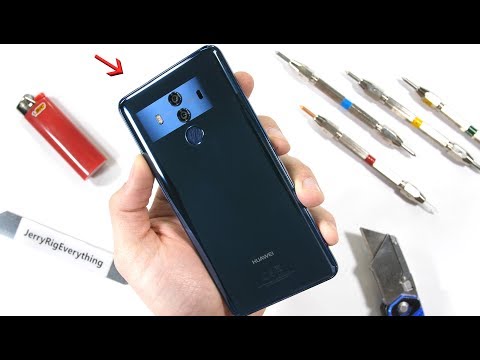 The test starts with the scratch test, which uses a set of Moh's picks to see how strong the screen is. The phone manages to resist all the picks up to Level 5, with only thin scratches showing up with the Hardness 6 pick. This is pretty standard for glass and the Mate 10 Pro is excellent in this regard. The camera and HUAWEI logo are under the glass, so it's protected from most normal wear and tear, including razor blades and car keys.
The sides of the phone are made of anodized aluminum and easily scratch from a typical metal blade. They are easily scratched with metal and won't stand up to abuse, although it won't break. It will just have some rather unsightly scars. The camera lenses at the back are likewise protected by glass, and won't succumb to anything typically kept in your pocket. The fingerprint scanner is coated with plastic and will scratch easily, but even damaged it can easily read your fingers regardless.
The burn test showed just how tough the phone is. It lasted a full 40 seconds before it started to show damage on the AMOLED display, making the Mate 10 Pro one of the best phones at resisting flame, right there with the Galaxy S8.
Finally, the bend test shows just how strong the phone is. The HUAWEI Mate 10 Pro could not be bent from the front or the back and secures the pedigree of the Mate 10 Pro as one of the most durable phones available right now.
So if anyone is looking to get a HUAWEI Mate 10 Pro, you can rest assured that it has passed the highest standards of quality for ruggedness and survivability. This phone is one you can bang up every day and it'll still come back alive and kicking.