Meet the Eco-inspired Table that doubles as a Hi-Def Speaker, Mellow
Meet the Eco-inspired Table that doubles as a Hi-Def Speaker, Mellow
Mellow, an eco-inspired table that functions as a high-def speaker, is a concrete example of how functionality and design can go along with each other. It sports a stunning furniture design with a touch of modernity.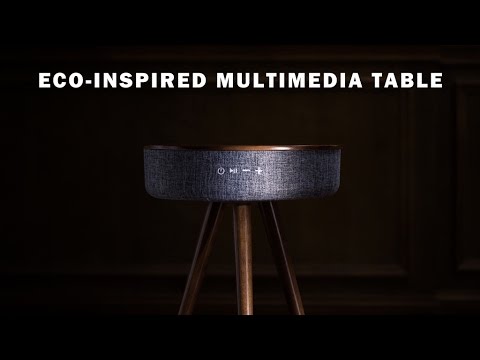 Nowadays, most functional gadgets are usually designed to blend into the surroundings. One example of it is Mellow, a table that doubles as a multimedia speaker. The device can give seven hours of uninterrupted playing time in a single charge. Apparently, you can also play music while it is charging.
Mellow's built-in speaker produces captivating sounds which can give you the audio experience that you want. The device is also Bluetooth-enabled allowing wireless connectivity to other mobile devices within 10 meters.
Aside from functioning as a speaker, Mellow can also be a power bank. It comes with the ability to charge two devices at the same time thanks to its two USB ports. Interesting enough, the team who created Mellow claims that the product can charge the iPhone 7 to full battery in three hours.
Mellow's power is from a DC 16V wall power adapter and a 6600mAh built-in lithium battery. It will take four hours for Mellow to reach its maximum battery capacity. The table form-factor offers practicality and is meant to complement your home decors. In fact, it sports a stunning and timeless mid-century furniture design. It has three legs that are made from 100-percent beech wood whereas its table top is wrapped in woven micro-fabric to add a slightly modern touch.
The buttons are embroidered directly into the fabric which makes its overall appearance elegant. It measures almost two feet high and is about 16 inches wide.
Regarding the creation of Mellow, the team noted on its Kickstarter page, "When our team first sat down to design and discuss what would eventually become Mellow, we looked to nature's design for inspiration. We sought to build a table that was inspired by the beauty found in natural landscapes. We accomplished this by incorporating natural shapes, textures, and colors into the design process. Mellow combines the organic feeling of nature with the heart of technology."
The Mellow multimedia table can be pre-ordered on Kickstarter from USD 289. If everything goes well, the Bluetooth-enabled speaker will start shipping in August.