Rezvani TANK: Prepared to Take On Off-Road and On-Road Challenges
Rezvani TANK: Prepared to Take On Off-Road and On-Road Challenges
Rezvani recently launches its newest bizarre vehicle, dubbed as the Rezvani TANK. The new TANK can take on any off-road and on-road challenges with its 6.4-liter 500-horsepower Fiat Chrysler V8 engine and military-grade tires.
California-based Rezvani Motors, known for its high-performance supercars, has recently added a new vehicle to its bizarre collection. The one in question is the latest Rezvani TANK. Labeled as a "tactical urban vehicle" and an "extreme utility vehicle," the TANK packs a militaristic but luxurious design, prepared to take on any off-road and on-road challenge. Rezvani even claims that its newest offering was "born from the vision of a pure driving experience." After all, the TANK has a reliable 3.6L V6 or an optional powerful 6.4-liter 500-horsepower Fiat Chrysler V8 engine at its core. It also comes with two unique off-road packages, the regular Off-Road, and the Off-Road Extreme, which provides high ground clearance, remarkable off-road suspension, and equally capable tires.
Design-wise, we can notice that the frame and the switchgear on the center console resemble that of the Jeep Wrangler a lot. It also uses the Wrangler's capable 4WD system but integrated additional technologies to spice things up. For instance, it sports a FLIR-sourced thermal night vision system for seeing through the dark and a head-up display system which shows the car's speed, navigation, fuel level, and the speed limit on the current road, as well as incoming calls, text messages, and calendar notifications. Also, it features power-initiated, rear-opening doors which provide easy access to the luxurious cabin. Inside, you can see the ergonomically-designed seats having a right amount of padding to provide maximum comfort for a long drive. Another set of outrageous technology that the Rezvani TANK offers include a bulletproof glass, military-grade run-flat tires, and Kevlar armor in the body panels and around the fuel tank, floorpan, and radiator.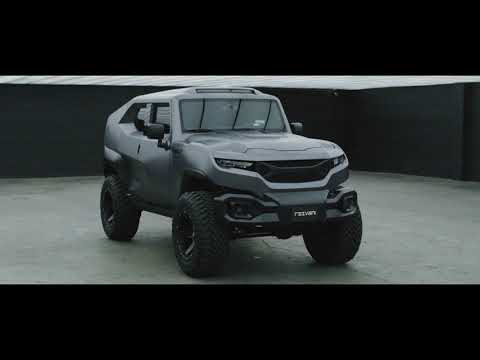 With such a beauty, you have to break your bank to purchase it, the TANK costs USD 178,500 or around PHP 9,182,889 . The first deliveries of the vehicle are expected to arrive later this year. What do you think about the Rezvani TANK?