* Prices updated on Mar 11, 2014.
* The prices listed have been converted from USD to PHP based on exchange rates of Mar 12, 2014.
Video of Apple iPad mini WiFi 16GB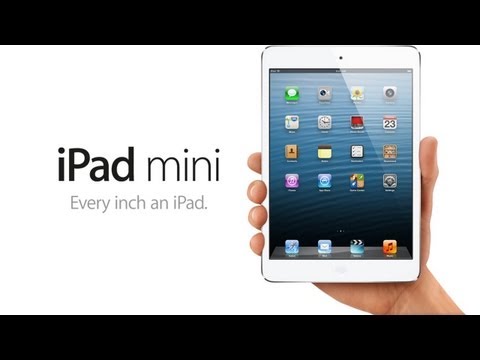 OfficialOfficial Apple iPad Mini Trailer
Official(OFFICIAL APPLE LIVE EVENT 2012) - iPad 4 and iPad Mini Announcement.
Specs of Apple iPad mini WiFi 16GB
Basic Spec
Operating System:

iOS

Processor:

Dual-core A5

Processor Speed:

1GHz

Ram:

512MB

Storage:

16GB

Screen Size:

7.9inch

Screen Type:

LED-backlit Multi-Touch display with IPS technology

Backlight:

yes

Resolution:

1024x768

Battery Life:

Up to 10 hours of surfing the web on Wi-Fi
Others
Connections:

USB, Wifi 802.11a, Wifi 802.11b, Wifi 802.11g, Wifi 802.11n, Bluetooth

Others:

Camera, Video, Webcam, GPS
Size
Dimensions (WxHxD):

134.7 x 200 x 7.2 mm

Weight:

308g
About Apple iPad mini WiFi 16GB
When Apple, Inc. introduced its line of mini tablets with the unveiling of the iPad mini last October 2012, the company once again revolutionized the tablet computer industry. Consumers raved about the more compact size and were delighted with the fact that none of the device's reliable features were compromised.
Popularity in the Philippines
Even before the introduction of the iPad mini in the market, Filipinos had a thing for smaller computers i.e. notebooks. Thus, it did not come as a surprise that when Apple finally launched its own line of smaller tablets to compete with the other brands, the local market devoured it. The iPad mini was and still is hugely popular and preferred by most buyers especially the practical Filipinos who look for smart and worthwhile investment.
Product Features
As its name implies, the iPad mini is a smaller, more compact version of the iPad 2 and built with iOS 6.0 and runs on A5 Chip processor. It can be connected to 2G, 3G, 4G and LTE networks via its nano SIM feature. It showcases an LED backlit IPS LCD capacitive touchscreen with 1024X768 pixel colours and measures 7.9 inches.
Like the other iPads, the iPad mini also sport four buttons and one switch: home button, wake/sleep button, volume up and down button and software-controlled switch. All models have WiFi connectivyt but not all have cellular network capability. You can choose from 16GB, 32GB and 64GB flash memory with no micro SD expansion slot. It also has a 512MB DDR2 RAM built in. The iPad mini boasts of a 5MP rear iSight camera and 1.2MP front FaceTime camera. It is compatible with a Lightning Connector and also features voice dictation and the personal assistant, Siri.
Software-wise, the iPad mini can be downloaded with apps from Apple's App Store and iTunes Store. But it already comes pre-installed with Safari browser, Photos, Maps, Mail, Notes, Game Center, Contact, Music, Video and Photo Booth. Users can also choose to back up their files using the iCloud service. For those who wish to make phone calls, you may do so using VoIP applications like Skype.
You can also choose to use the device as an ebook reader via the iBook app which supports ePub format books. This new feature/app as well as its compact size made the iPad mini a serious competitor of the leading eBook readers such as Kindle Fire and Nexus 7.
Of course, you should not forget that the iPad mini is still an iPad, only smaller. This means you can still watch videos, listen to music, play games, browse the internet and connect via social networks. The additional 0.9 inches over the other 7-inch tablet proved to be a marvel especially when navigating websites.
Pros
The iPad mini is undeniably cool with its handy size yet powerful innards. There may be some features that the bigger iPads have but you can learn to live without them and will still be satisfied with this tablet's performance. It looks especially sleek and stylish with its brushed metal design and its strong battery life is a huge plus. Of course, the minimalistic and intuitive user interface will always be the top reason why it is widely popular.
Cons
Comparing it to the iPad with Retina Display will somehow make you disappointed that the iPad mini display is not as clear and crisp. Like with the other iPad models, it is also more expensive with a price tag of $329 for the 16GB, $429 for the 32GB and $529 for the 64GB WiFi models during its launch. The models with cellular network connectivity were priced at $459, $559 and $659 respectively. Accessibility will always be an issue for those who like to transfer or copy photos and videos as well as the lack of memory expansion.
Conclusion/Recommendation:
The iPad mini manages to hold up well to the other brand competitors and you will surely fall in love with its look and performance. Although less affordable than other tablets, you know you are getting what you paid for in terms of reliability and just sheer awesomeness. The iPad mini is a great day-t-day companion and would offer you utmost comfort and convenience.
User Review :

27

reviews
| | |
| --- | --- |
| Design | 4.7 |
| Processing Speed | 4.4 |
| Operability | 4.4 |
| Portability | 4.7 |
| Battery | 4.7 |
| Display | 4.3 |
| Total | 4.5 |
You can't go out without it
I bought the black model. [Design]iPad's design plus the backside is coated like an iPhone 5. The look is very ...Read more reviews
Rating :

4.2

Date : Nov 5, 2012
Review in Kakaku.com
Review for iPad mini Wifi 16GB
[Good]The good thing about this product is obviously an apple product. When you say apple product it means iTunes, ...Read more reviews
Rating :

3.7

Date : Feb 25, 2014
Reviewed by : Humfrey Ponsica
Who would have thought it would be this good?
My first tablet and my first iPad. iPad is known for good design, swift response, quality apps, so I wanted to buy ...Read more reviews
Rating :

4.8

Date : Nov 5, 2012
Review in Kakaku.com
recently my ipad processor moving slow,what should i do to make it fast again.?any advice please..thanks guys
Last updated : Mar 5, 2014
Posted by JJ
Replies of This topic : 1 Replies
I use game center on my iphone and I get a lot of notifications and I want to stop it from going to my ipad. How can I do it?
Last updated : Feb 12, 2014
Posted by cachairhear98
Replies of This topic : 3 Replies
Recommended po ba na magshop online kasi mas cheaper ang price or still sa mga power mac center parin dapat bumili kasi yun ang official price? I'm not into shoppping online kasi parang nakakapagtaka ang mura..
Last updated : Nov 22, 2013
Posted by Neil
Replies of This topic : 2 Replies
Compared to Apple iPad mini WiFi 16GB